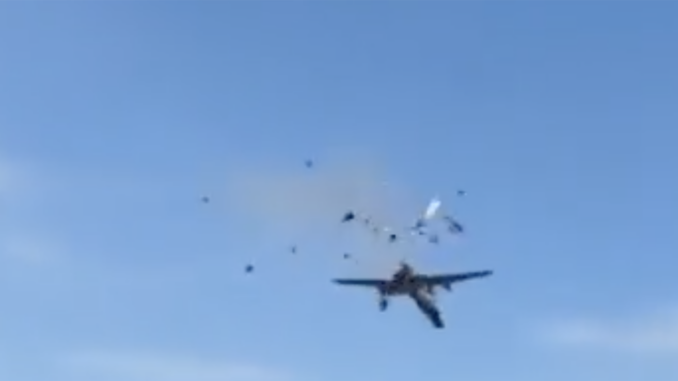 The Federal Aviation Administration (FAA) has confirmed the details of yesterday's horror crash at Dallas Executive Airport, which saw two World War II aircraft collide in mid-air.
The crash occurred yesterday afternoon and involved a Boeing B-17 Flying Fortress and a Bell P-63 Kingcobra, the latter appearing to crash into the B17 slicing it into two sections at a low level.
Dallas County Judge Clay Jenkins said "According to our Dallas County Medical Examiner, there are a total of six fatalities from yesterday's Wings over Dallas air show incident," and the fire service confirmed there were no casualties on the ground.
The air show was being operated by the Commemorative Air Force (CAF) who posted "This afternoon, two aircraft were involved in a mid-air collision at Dallas Executive Airport. The aircraft were a B-17 Flying Fortress and P-63 Kingcobra, both out of the Houston area. Currently we do not have information on the status of the flight crews as emergency responders are working the accident. The Commemorative Air Force is working with local authorities, the FAA, and the NTSB will conduct a thorough investigation into the cause of the accident. Any available information will be posted here. Our thoughts and prayers are with those involved in the accident and their families."
Confirming the details, The Federal Aviation Administration said that the incident will now be investigated by the National Transportation Safety Board (NTSB).
The crash was witnessed by thousands at the air show with many describing the incident as "horrific" to watch and one witness told the New York Times that he "saw a wing come off the B-17 and then the fuselage of the plane fall to the ground, followed by fireballs and a loud crash."
This story will be updated as more information becomes available.