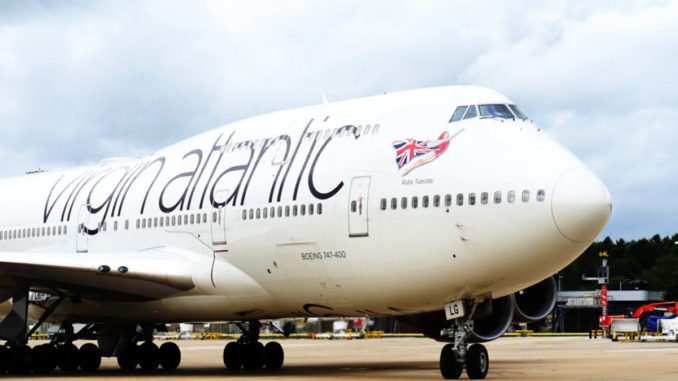 Tickets for Virgin Atlantic's unique Boeing 747 pop-up dining experience will go on sale at 9am tomorrow morning.
The event, which takes place on the 12th December at Heathrow Airport, will see guests enjoy a three-course dinner on the upper class deck a Virgin Atlantic Boeing 747-400, known as the Queen of the Skies.
As well as the three-course dinner, guests will be given a tour of the aircraft including the Flight deck, crew areas and cargo hold in addition to having the opportunity to have an iconic photo taken sat in the engine.
Pilots, Engineers and other Virgin Atlantic staff will be on hand during the evening to give a first hand account of what life was like working on the Boeing 747 including Yvonne Kershaw, the first female pilot to Captain the type.
Virgin Atlantic's Chief Customer and Operating Officer Corneel Koster, said: "The much-loved Boeing 747 has played an important role in Virgin Atlantic's story.  It carried our first passengers to New York 36 years ago on our inaugural flight and over the years has transported countless millions of holiday-makers and business travellers safely around the world." adding "As we close this chapter and continue the transformation towards a cleaner, greener fleet, what better tribute than to showcase the Queen of the Skies one last time.  I'm delighted we're able to offer this opportunity to a lucky few to be part of aviation history before we say our fond farewells to this iconic plane."
Tickets for the event cost just £50 and will be available from 9am tomorrow at https://virg.in/747experience.
Virgin Atlantic decided earlier this year to bring forward the retirement of its Boeing 747 fleet in favour of more efficient twin-engine aircraft such as the Airbus A350 and Boeing 787.
The final departure of a Virgin Atlantic 747 from Heathrow is expected to be on 16th December when G-VROY takes off for the last time. The final departure from Manchester was earlier this week.