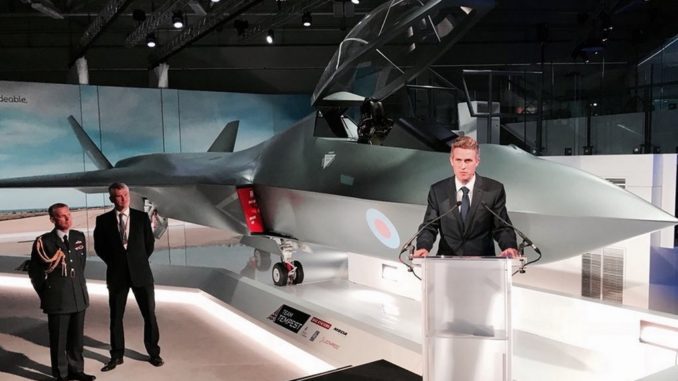 The UK Government has announced a 6th Generation fighter which is to be designed and built in the UK by a consortium including BAe Systems and Rolls-Royce, MBDA UK and Leonardo.
The Tempest was unveiled at the Farnborough International Airshow by defence secretary Gavin Williamson as the first day got underway.
Billed as a replacement for the Eurofighter Typhoon the Tempest is expected to enter service in 2035.
£2 billion in initial funding has been set out to oversee the design and build of the aircraft which can be flown by a pilot, and remotely.
Britains current fighter aircraft, the Typhoon, has been in service since 2003 and will have been in service for over 30 years by the time the Tempest comes online.
Unveiling the project, Gavin Williamson said: "We have been a world leader in the combat air sector for a century, with an enviable array of skills and technology, and this Strategy makes clear that we are determined to make sure it stays that way. It shows our allies that we are open to working together to protect the skies in an increasingly threatening future – and this concept model is just a glimpse into what the future could look like.
British defence industry is a huge contributor to UK prosperity, creating thousands of jobs in a thriving advanced manufacturing sector, and generating a UK sovereign capability that is the best in the world.
Today's news leaves industry, our military, the country, and our allies in no doubt that the UK will be flying high in the combat air sector as we move into the next generation."
Chief of the Air Staff Air Chief Marshal Sir Stephen Hillier, said: "The Combat Air Strategy will bring together the best of our people, industry and international partners to support the RAF lift-off into the next century of air power. Team Tempest demonstrates our commitment in ensuring that we continue to build our capabilities, draw upon our experience and history to bring forward a compelling vision for the next generation fighter jet. In the last 100 years, the RAF has led the way and today's announcement is a clear demonstration of what lies ahead."
Charles Woodburn, Chief Executive of BAE Systems, said: "The UK's combat air capability, built by generations of committed and highly skilled people through a century-long partnership between the RAF and industry, is admired the world over. The UK Government's Combat Air Strategy is a powerful statement of intent to invest in next-generation combat air systems. We're proud to play a key role in this important programme, with our world-leading technology, capability and skills, which will contribute to the UK's defence and prosperity for decades to come."