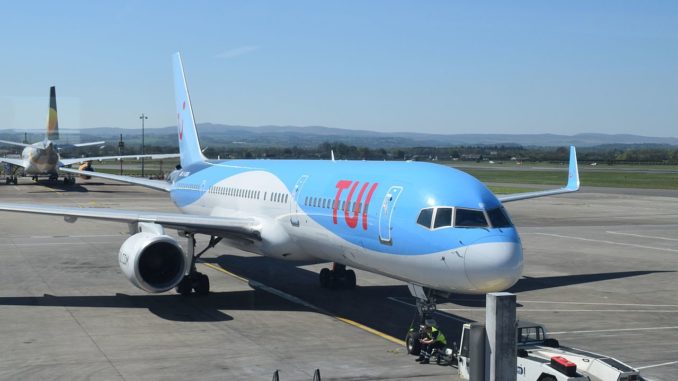 A TUI flight from Malaga to Bristol diverted to Birmingham Airport (BHX/EGBB) last night due to a 'technical issue' and adverse weather at Bristol.
The Flight, TOM6711, was being operated by a Boeing 757-200 G-OOBH. The aircraft is understood to have had an issue with the flaps on approach to Bristol (BRS/EGGD) which combined with adverse weather resulted in the aircraft diverting to Birmingham where emergency crews were there to meet the aircraft which made a safe landing.
A spokesperson for TUI UK  said: "We would like to apologise for the inconvenience to our customers on flight TOM6711 from Malaga to Bristol, which diverted to Birmingham as a result of a technical issue and adverse weather conditions in Bristol."
TUI's Boeing 757 aircraft have been suffering a number of flap-related issues recently, another 757, G-OOBP, had to carry out an emergency landing after flap problems at Manchester earlier this year and G-OOBF had flap problems whilst landing at Bristol in 2017.
Wing flaps are located on the rear edge of the wing. They are used to increase the wing area to create more lift when flying at slower speeds such as Take-off and Landing and then retracted for higher speed flight. When flaps can't be extended it means that an emergency landing will be carried out at a much higher speed than a normal landing.
The airline (formerly Thomson Airways) operates 14 Boeing 757 aircraft with the oldest being 23 years old (G-BYAW) and the youngest being 14 years old (G-OOBF).
TUI didn't comment on the flap problem directly and didn't confirm or deny the exact nature of the technical issue but added: "We appreciate our customers' patience and understanding and would like to take this opportunity to reassure everyone that the safety of our customers and crew is of paramount importance."