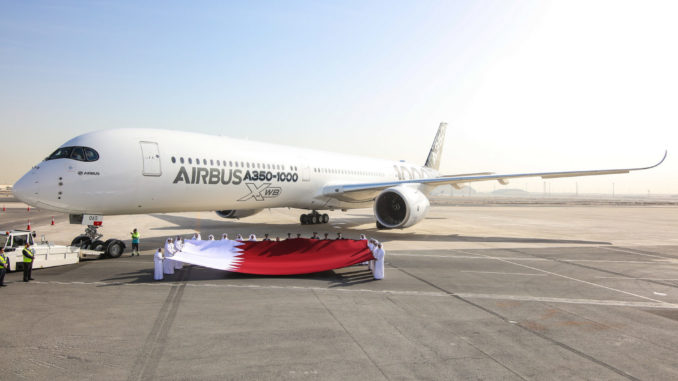 Qatar Airways has announced that it's first Airbus A350-1000 route will be the daily  QR15 Doha (DOH/OTHH) to London Heathrow (LHR/EGLL) service.
Starting from the 24th February, the QR15 service will be operated by the Rolls-Royce XWB-97-powered twinjet, the first of its type in service.
The A350-1000 was finally handed over to Qatar Airways today after delays in fitting the cabin, in particular, Qatar Airways Q-Suite.
At the handover in Toulouse Qatar Airways Group Chief Executive, His Excellency Mr Akbar Al Baker, "This remarkable state-of-the-art aircraft will become a firm part of Qatar Airways fleet and will keep us ahead of the curve, allowing us to continue to offer our passengers outstanding levels of comfort and service".
Fabrice Brégier, Airbus, added "It is a huge pride for us to deliver the very first A350-1000 to our launch customer Qatar Airways. Bringing major advantages in fuel and cost efficiency along with unmatched passenger comfort, the A350-1000 is the ideal aircraft to showcase Qatar Airways' legendary customer service. With its greater capacity compared to the A350-900, the newest widebody will play a major role on the carrier's busiest long-haul routes and will contribute to strengthen their position at the forefront of the aviation industry."
Qatar Airways first A350-1000, A7-ANA (MSN88), is configured with 327 seats.