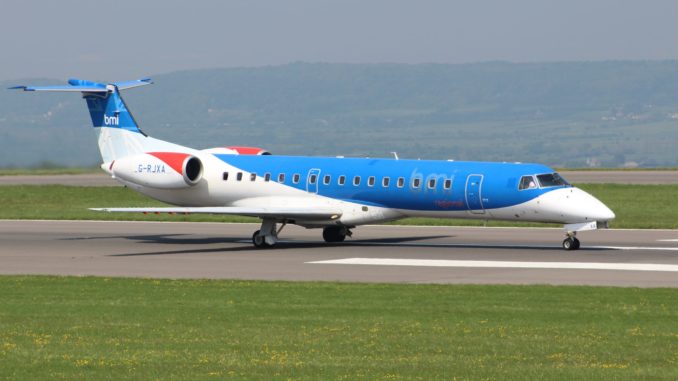 Bristol Airport has been forced to close as a regional jet runs off runway in a landing incident.
The BMI Regional Embraer RJ145 (Not pictured) had landed at the airport from Frankfurt but is understood to have run off the runway at the opposite end whilst taxiing. No injuries have been reported.
A spokesperson for Bristol Airport said "After landing at Bristol Airport at 11.36 this morning an Embraer 145 inbound from Frankfurt (flight number BM1822) left the runway while taxiing.  Passengers were disembarked and returned to the terminal by coach.  None of the 25 people on board were hurt.
"The runway remains closed while information is gathered to aid investigation of the incident.  The aircraft will then need to be towed to a stand and any debris cleared from the runway before flights can resume.    While it is too early to speculate about the cause of the incident, we are confident that it was not related to the low visibility conditions currently being experienced.
"We thank passengers for their patience while we continue to work to resume operations as soon as possible.  In the meantime, all passengers are advised to contact their airline to obtain the latest flight information. Additional staff are on hand in the terminal to assist passengers."
Airports on both sides of the estuary are being affected by fog and low cloud with delays being faced at Cardiff Airport while flights due to land Bristol Airport have been diverted to other airports whilst the airport remains closed.
The Air Accident Investigations Branch (AAIB) has confirmed it has sent a team to Bristol Airport to investigate the incident.
The runway remained closed whilst specialist lifting equipment was brought in to recover the aircraft. It reopened at 23:45hrs last night.