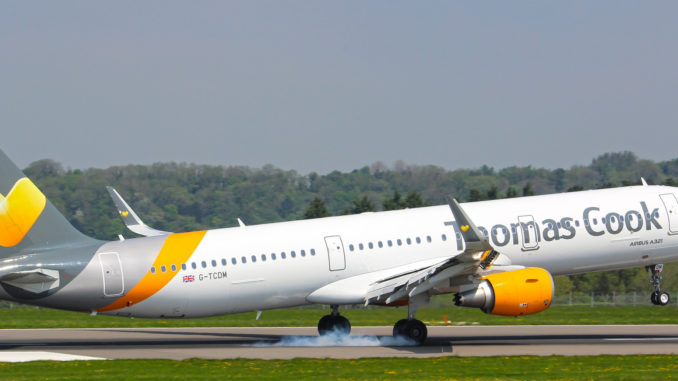 Pilots flying for UK leisure airline Thomas Cook are staging a 12-hour walkout over pay.
The strike, which began at 3 am this morning following a failed last ditch attempt by Thomas Cook to obtain an injunction to prevent the action.
The British Airline Pilots Association (BALPA) authorised the strike which is the first time pilots have gone on strike since the 70's. It was supported by 91% of Thomas Cook pilots that are BALPA members.
BALPA General Secretary, Brian Strutton, said: "Disrupting people's travel plans is the last thing pilots want to do and we very much regret taking this step. However, our members are frustrated that after many months of negotiations we still do not have a decent pay offer on the table and they have said loud and clear 'enough is enough'. 
"That is why BALPA has authorised a strike to take place on 8th September. In the meantime I will continue trying to negotiate with Thomas Cook to achieve an outcome that will be acceptable to pilots."
Thomas Cook said it offered a 1.5% pay rise which was changed to 4% over two years during recent talks.
It said BALPA is seeking a deal that is, in real terms, a 10% pay rise.
Peter Fankhauser, chief executive of Thomas Cook said: "Obviously we work in an extremely tough environment. We have offered basically 4% over 2 years on top of normal annual pay increases of 1.8%.
"We have an offer which is clearly above inflation. We have moved 3 times.
The airline said: "Our priority is to make sure all of our customers can still fly on holiday and back home with us and we are pleased to confirm that all of our flights on 8th September will operate.".
The airline has done this by pushing departures due between 03:00 & 15:00hrs today to later time slots.
The move will affect Thomas Cook flights at UK airports including Bristol Airport & Birmingham, however, Thomas Cook flights from Cardiff Airport are unaffected as they are operated by a 3rd party airline.