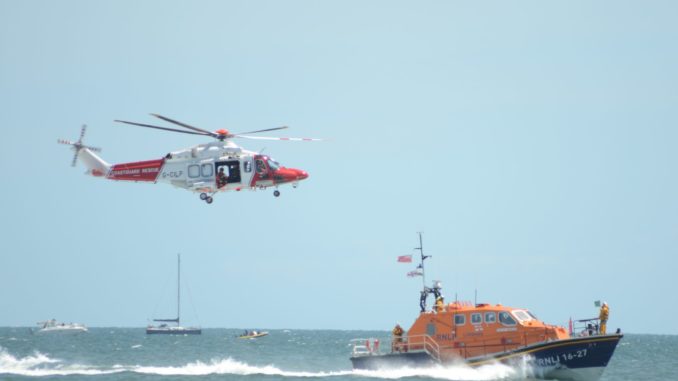 The St Athan Coastguard Rescue helicopter has carried out its 500th mission since the Search and Rescue (SAR) operation around the UK was privatised.
The base at St Athan was one of the first purpose-built sites operated by Bristow Helicopters as they took over from Royal Air Force and Royal Navy SAR operations in 2015
St Athan is one of 10 sites around the UK that operate state of the art helicopters equipped with the latest search and rescue technology such as night-vision and mission management systems.
The two aircraft based at the South Wales site are Augusta Westland AW139 helicopters (G-CILN & G-CILP) and operate as Rescue 187 and Rescue 188.
The AW139 is a 15-seat medium-sized twin-engine helicopter that was designed with rescue and military use in mind. With an endurance of around 6 hours, it provides the perfect platform for SAR operations around the UK coast.
Operating for the Maritime & Coastguard Agency (MCA) means that Bristow also works closely with the Royal National Lifeboat Institute (RNLI) to save lives at sea along with working with Mountain Rescue branches to search areas such the Brecon Beacons and Snowdonia.
The team at St Athan is made up of 30 employees and includes Pilots, Winch operators and operations staff.
Chief pilot at St Athan, Captain Olly Padbury said: "Reaching 500 jobs is a very proud moment for the base and comes after an extremely busy month, with over 50 SAR call-outs in August.  I can't remember a busier month in all my years in SAR. A huge amount of work has gone into providing search and rescue from St Athan since we opened in October 2015 and I am very proud of the team here."
 "Our focus is always on bringing people home safely from a search and rescue operation, dedicating ourselves to year-round training, and living up to the incredibly high standard that the UK SAR service has been renowned for delivering for more than 70 years.
"Many people won't be aware just how regularly we are called out as, compared to the sound of an ambulance or fire engine passing by, our missions are often undertaken in remote and challenging areas where our work goes unseen.
"We rely on the public for their support – in terms of preparing themselves as well as possible before they venture out on land and at sea, and for providing accurate information when calling 999 for assistance."