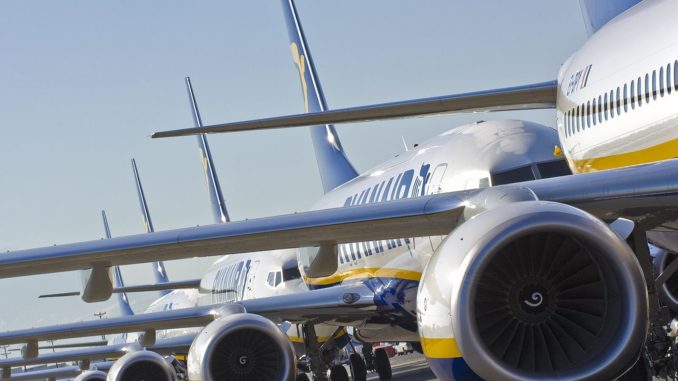 Pilots at Ryanair's biggest UK hub, London Stansted, have voted to reject a Ryanair pay offer by the Irish Low-Cost Carrier (LCC).
The decision, which had the support of over 60% of pilots, rejected an offer of £11,000-£22,000 extra in bonuses and allowances. The offer is conditional on all negotiations being conducted through a Stansted-based employee representative committee (ERC) as Ryanair does not recognise unions.
Despite Ryanair refusing to recognise unions. The British Airline Pilots Association (BALPA) has offered to mediate in talks.
Pilots have said the rejection is not about the financial value but the "wider terms and conditions" of working at Ryanair. They also cited the refusal of management to enter meaningful negotiations with the pilots and total lack of guarantees for the terms offered by O'Leary.
In a recent letter to all pilots, O'Leary begged them not to leave for another airline and offered a bonus for staff after 12 months but this was met with contempt from the ERC's across Europe.
Ryanair management has sought to undermine pilots in the current dispute and play down the stories about poor pay and conditions choosing to blame "anonymous pilots with grudges", or from rival airlines, however, one Ryanair pilot, Captain Imelda Comer, went public recently to show that this was coming from within and not external factors.
In an open letter to Michael O'Leary, she said "You have been offered a genuine opportunity to open a constructive dialogue with a group of Ryanair pilots, representing the views of the whole pilot body. Yet you have publicly dismissed out of hand their reasonable and constructive approach. Unfortunately you have again chosen to disparage the pilot body and their representatives, while you continue to impose your own representation model that has failed both pilots and the company."
Ryanair recently had to cancel hundreds of flights and disrupt the travel plans of thousands of travellers when it did not have enough pilots to carry out its flights. Despite denying that the situation is down to a lack of staff, Ryanair management has been cold-contacting pilots via Linkedin and by telephone offering golden handshakes.