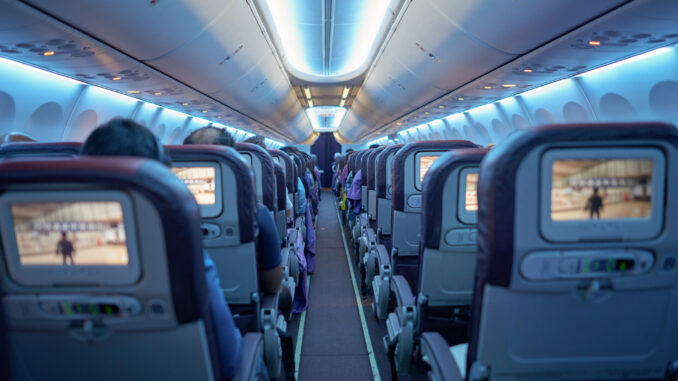 Sleaford based SHD Composite Materials Ltd recently supplied aircraft interior specialist Percival Aviation with a highly sustainable resin system, FR308, which Percival used to increase the storage capacity of Boeing 757 overhead luggage bins.
The resin, which is produced using a waste product of sugar cane production, was tested for conformance for aircraft interiors before being issued to allow the luggage bins to be extend allowing passengers to load suitcases in lengthways rather widthways, allowing more cases to be stored in the overhead bins.
This was the first time FR308 had been used in commercial passenger aircraft and replaced a product that used traditional fossil fuel based products. The resin also increased the durability of the overhead locker doors as well being lighter than the product it replaces.
Percival Aviation has also used to FR308 to develop a wash basin door for Airbus A320 aircraft through its EASA-certified design (Part 21J), production (Part 21G) and EASA Part 145 capabilities.
Ian Leece, Operations Manager at Percival Aviation commented "the team at SHD were easy to work with and provided a suitable solution at a reasonable price. As the FR308 is a renewable bio resin system, it helps keep in line with our company environmental policy. Overall we were very impressed with the product and will return for future projects."
FR308 reinforced with 300gsm glass fibre is environmentally, and health and safety friendly in comparison to alternative products. There are no hazardous chemicals, the product is formaldehyde and phenol free, and no organic solvents are used in the manufacturing process. As FR308 is bio- based and sustainably sourced, it can significantly reduce the carbon footprint of the aircraft versus phenolic prepregs