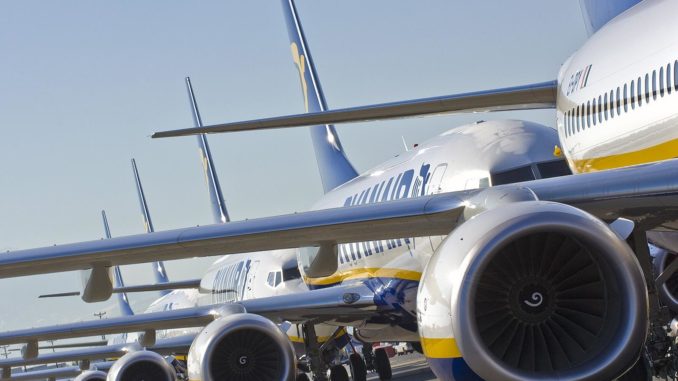 Ryanair has been forced to cancel flights today affecting around 4000 passengers in Ireland, and many more in the UK and other countries as it's Irish pilots stage a second 24-hour walkout.
The budget airline cancelled flights to and from the UK from Ireland, particularly routes that would allow passengers to rebook or find alternative flights and apologised to its customers who were caught up in the industrial action.
99% of Ryanair pilots in the Irish Airline Pilots Association voted to strike and the union issued a statement saying:  "The Irish Airline Pilots' Association (IALPA) branch of Fórsa today (Thursday) gave notice that it intends to stage two further one-day pilot strikes in Ryanair commencing at 1 am on Friday 20th July, and at 1 am on Tuesday 24th July."
In response, Ryanair said on Twitter: "We apologise to these 4000 Irish customers whose flights were cancelled (and re-accommodated/refunded) due to today's 2nd unnecessary strike by less than 25% of our Irish pilots (who earn €150,000 – €200,000 p.a.) over 'seniority and base transfer' proposals which they can't explain and which don't even affect them.
"We call on FORSA to cancel the 3rd strike (next Tue 24th) which is supported by less than 25% of our Irish pilots.
"Our pilots should resolve these issues through our working group and not disrupt any more customer holidays."
The Irish Pilot's strike, however, is small in compared to the Industrial Action the airline is facing next week when cabin crew across Belgium, Portugal and Spain walk out for 48 hours on 25th & 26th July.
The cabin crew strike could affect hundreds of flights across Europe as the summer holidays get underway.
Know your rights.
As Ryanair is a European airline, if your flight is cancelled then Under EU Law you are entitled to take an alternative flight with the Ryanair to your destination, or cancel your flight and claim a full refund. If the alternative isn't suitable, then Ryanair is legally obliged to book you on a comparable flight with them or an alternative airline. This known as rerouting and even if that flight costs Ryanair more, they cant pass that cost on to you.
Last year, when Ryanair cancelled thousands of flights when crew holidays left it short of available pilots, the CAA publically stated that Ryanair was misleading customers by not offering, or saying they weren't required, to reroute customers on alternative airlines.
Speaking at the time, the Civil Aviation Authority's Chief Executive, Andrew Haines, said: "There are clear laws in place, which are intended to assist passengers in the event of a cancellation, helping minimise both the frustration and inconvenience caused by circumstances completely out of their control.
We have made this crystal clear to Ryanair, who are well aware of their legal obligations, which includes how and when they should reroute passengers, along with the level of information it provides its passengers."