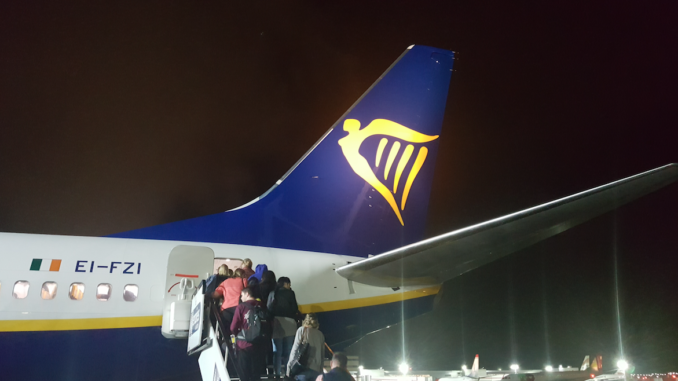 Ryanair has announced it is ending its policy of allowing two cabin bags as it says people are abusing it and causing flights to be delayed.
The move, which comes under Ryanair's "Always getting better" policy means that from the 1st November passengers will only be able to take one piece of hand luggage onboard a Ryanair flight unless you have paid extra for priority boarding.
In addition, it is also banning "wheelie-style" hand luggage from the cabin but these can be placed in the hold free-of-charge.
In a bid to encourage more people to check bags into the hold Ryanair has reduced its hold baggage fee from £35 to £25 for 20kg.
Passengers who pay £5 extra for priority boarding, however, will still be allowed to take 2 bags onboard the aircraft leading some to suggest that increased priority booking fee revenue might be the real reason for the move.
Ryanair recently suggested that it had become the victim of its niceness with passengers "taking advantage" of the budget carrier.
Kenny Jacobs, Ryanair's chief marketing officer, said "We're making these changes because our flights are so much busier," adding "A number of people will have two very large bags, taking up someone else's space. They'll hope they'll get away with it and generally, they have, but we don't want to go back to policing bags at the gate."
Referring to the wheelie-style luggage he said "We hope that by restricting non-priority customers to one small carry-on bag – their wheelie bag must be placed in the hold, free of charge at the boarding gate – this will speed up the boarding of flights and eliminate flight delays being caused by not having sufficient overhead cabin space on busy flights to accommodate over 360 carry-on bags."
The move will affect customers from Cardiff Airport travelling to Faro and Tenerife with Ryanair.