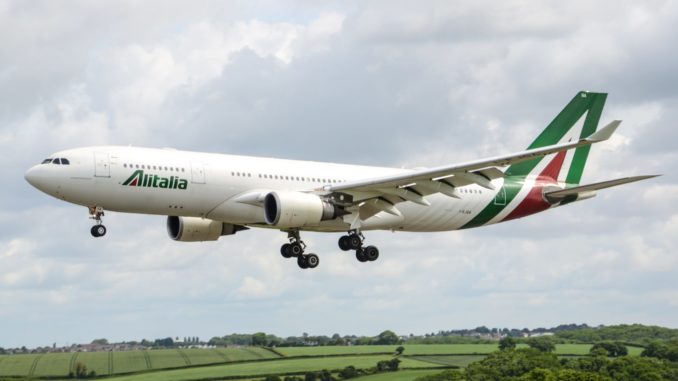 According to Ryanair CEO Michael O'Leary, Ryanair's future planning could include parts of both Alitalia and Air Berlin
Speaking at a press conference in London yesterday,  Michael O'Leary said he intended to make a bid for some 90 Alitalia jets by the first week of October, which brings the next phase of the Italian carrier's sale process.
The Ryanair boss said "We would be willing to take on both the short-haul and the long-haul [fleet]," adding. "One of the aspects of Alitalia that is really attractive is the long-haul fleet, which has the capacity to grow very strongly."
Mr O'Leary thinks it likely that Alitalia will be "broken up" and that Ryanair will benefit in terms of air traffic rights and airport slots because "whoever buys them [Alitalia], there will be competition remedies".
Alitalia was put up for sale earlier this year after filing for insolvency protection. Airlines have until 15 September to submit an expression of interest in making a binding bid. The airline's special commissioners will then consider those offers and notify parties that have met the "requirements". Those shortlisted will have until 2 October to submit a binding offer.
At the same time, the Ryanair chief executive told Irish media that  Ryanair will not bid for any of the assets of insolvent German airline Air Berlin.
Mr O'Leary told a news conference in Berlin on Wednesday afternoon that Ryanair would not bid because of its concerns about the process to offload Air Berlin's assets
He claims there is a "conspiracy" between the German government, Air Berlin and Lufthansa to keep competitors out of the process and sell most of the collapsed airline to the German flag carrier.
Air Berlin's assets, including routes and aircraft, will be sold off piecemeal next month by an administrator while the collapsed airline carries on with the aid of a €150 million loan from the German government.
How Mr O'Leary plays his hand will become evident in the coming months but there is no doubt that the outcome of the two liquidations will change the balance of the European aviation scene.