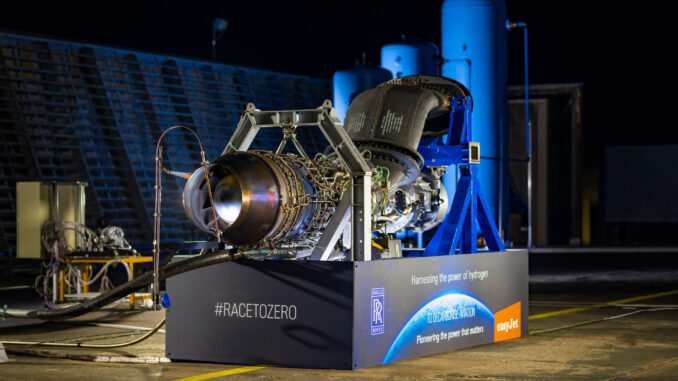 Rolls-Royce has successfully tested a jet engine powered by hydrogen making it a world-first for a modern jet engine.
The Rolls-Royce AE2100 gas turbine engine usually powers military transport aircraft such as the C130 Hercules or Saab 2000 regional airliners but this test was carried out on the ground at Boscombe Down.
Low-cost airline easyJet partnered with Rolls-Royce to carry out the development and testing of hydrogen power as part of a project that could see hydrogen play a major part in cutting emissions of the airline industry.
Grazia Vittadini, Chief Technology Officer, Rolls-Royce, said: "The success of this hydrogen test is an exciting milestone. We only announced our partnership with easyJet in July and we are already off to an incredible start with this landmark achievement. We are pushing the boundaries to discover the zero carbon possibilities of hydrogen, which could help reshape the future of flight."
Johan Lundgren, CEO of easyJet, added: "This is a real success for our partnership team. We are committed to continuing to support this ground-breaking research because hydrogen offers great possibilities for a range of aircraft, including easyJet-sized aircraft. That will be a huge step forward in meeting the challenge of net zero by 2050."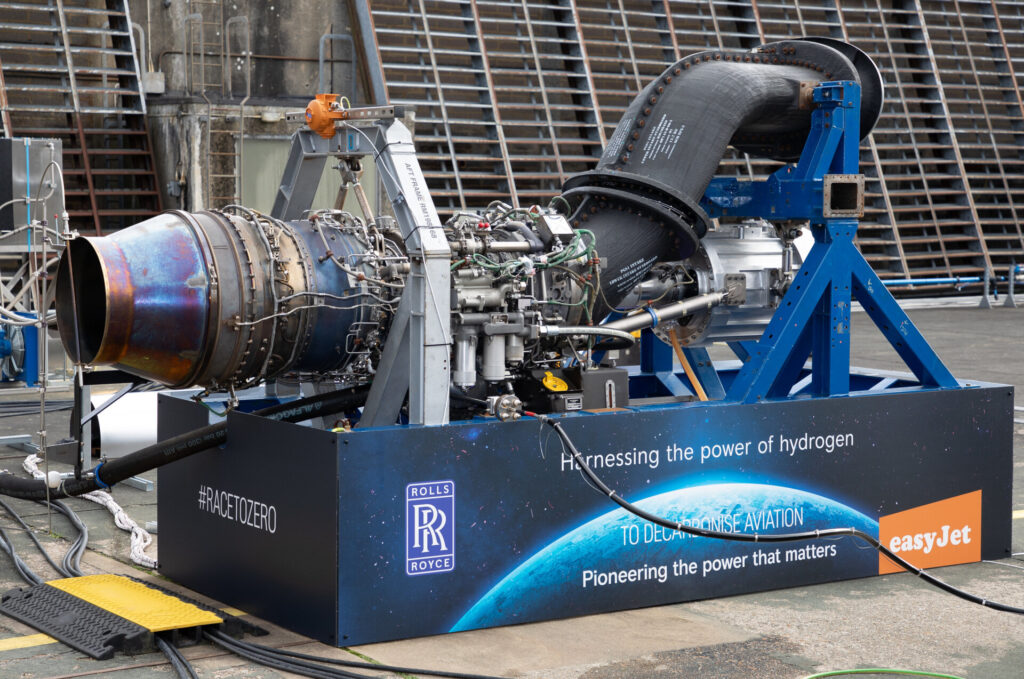 One of the biggest stumbling blocks facing hydrogen use is that the storage of liquid hydrogen uses four times as much space as that of kerosene for an equivalent amount of power. Another is the production of hydrogen itself which is often done using fossil fuels.
The hydrogen used in this test thought was produced using tidal and wind power and is so-called "green hydrogen".
Secretary of State for Business, Energy and Industrial Strategy, Grant Shapps, said: "The UK is leading the global shift to guilt-free flying, and today's test by Rolls-Royce and easyJet is an exciting demonstration of how business innovation can transform the way we live our lives. 
"This is a true British success story, with the hydrogen being used to power the jet engine today produced using tidal and wind energy from the Orkney Islands of Scotland – and is a prime example of how we can work together to make aviation cleaner while driving jobs across the country."
The partnership now plans a series of further rig tests leading up to a full-scale ground test of a Rolls-Royce Pearl 15 jet engine.