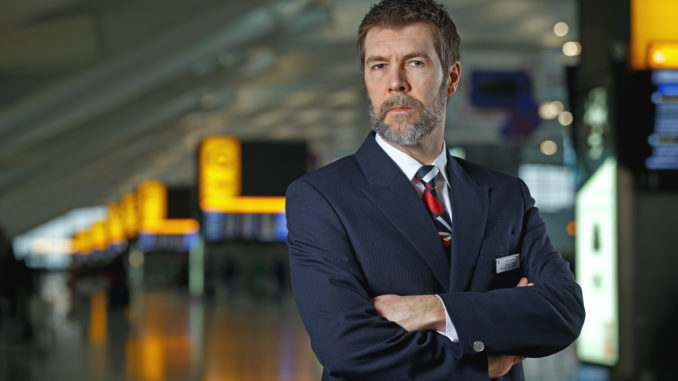 Welsh Comedian becomes cabin crew
Welsh comedian Rhod Gilbert has trained to become cabin crew in his latest Work Experience programme.
Rhod joined British Airways to train at the Global Learning Academy near Heathrow Airport in the episode to be broadcast this evening on BBC Wales
British Airways trainer Bobby Nazareth kitted Rhod out with the airline's trademark Julian Macdonald uniform, but the notoriously scruffy comedian had to trim his beard to bring him up to British Airways standards, He was given a badge reading 'Rhod Gilbert, cabin crew in the making'.
Rhod spent 5 days at the Global Academy and after the course described the job as being "'a human Swiss Army knife': having to become a safety expert, paramedic, chef, waiter, fireman, police officer and agony aunt all at the same time."
British Airways mentor, Katharine Nimmo said: "While Rhod was a natural at the safety drills, he couldn't get his head around what he called the 'first class fiddle faff' needed for premium service. But after he'd had the session on learning fine wine and cheese pairings, he seemed to get more into the spirit of it, and even nailed how to make the perfect First class bed."
He eventually received his 'wings' at a graduation ceremony and was assigned a real flight, with real customers: the BA184 to Newark with more than 250 passengers to look after the 787-9 Dreamliner.
British Airways Cabin crew Simon Scaparo, flew with Rhod to New York. Simon said: "I had to crack the whip to keep him hard at work, but he was really getting into it, and he charmed the socks off the customers and kept the crew laughing! If stand-up ever dries up, Rhod, come and join us. I'd fly with you any time."
On landing, Rhod complimented the British Airways cabin crew saying: "Hats off to you… fair play, it's exhausting. It is really hard work and there is a lot more to it than anyone would ever realise. Once you see it in this environment, you realise the training has got to be perfect, and I haven't been this tired in a really long time."