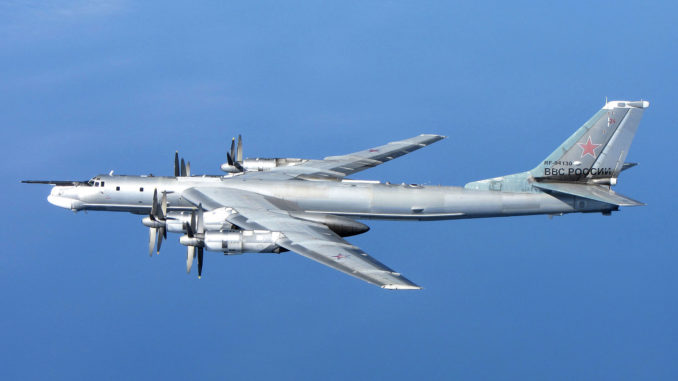 RAF Lossiemouth has released more information about yesterdays afternoons interception of two Russian TU-142 Bear along the west coast of the UK.
The RAF Launched Quick Reaction Alert aircraft from RAF Lossiemouth to intercept the aircraft which flew around the North of Scotland before heading down the West Coast of the UK & Ireland and spending around 2 hours operating south of Ireland.
Their route took them along an area where the North Atlantic Tracks (NATs), the corridor used by airliners cross the North Atlantic, start and end and as the aircraft down talk to Air Traffic Control or 'squawk' transponder codes they are effectively invisible to other aircraft.
Part of the reason that the RAF sends Typhoons to shadow these aircraft, aside from ensuring they remain outside of UK airspace, is that the Typhoon can make itself visible to ATC showing where the danger is.
The aircraft intercepted were a Bear-F (RF-34057) which is an Anti-Submarine aircraft and the Bear-J (RF-34073). The Bear J is a communications relay aircraft which meant it was trailing an aerial up to 5 miles behind the aircraft, something that the RAF says takes up to 30 minutes to retract, which can pose a risk to aircraft trailing or passing behind the aircraft.
In a post on Social Media, RAF Lossiemouth said "Not only do our Typhoons act as a deterrent to this activity, but they can make themselves visible to air traffic controllers and Battlespace Managers.
"Ultimately we are not just #SecuringTheSkies, but making them safer for other airspace users."