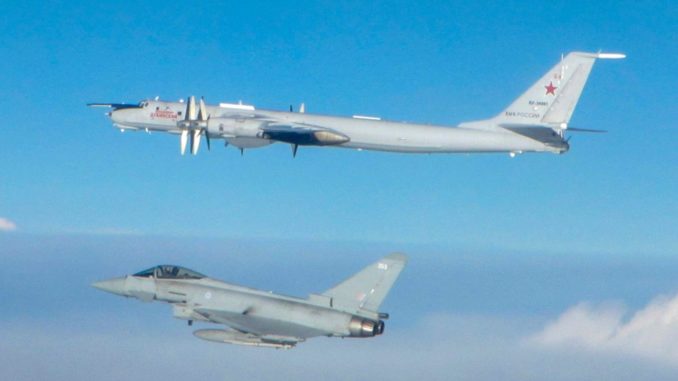 Typhoons were scrambled from RAF Lossiemouth to intercept the Russian aircraft
On Saturday (28th November) RAF Typhoons were launched from RAF Lossiemouth to intercept two Russian Tu-142 Bear F aircraft.
The Typhoons, which were scrambled to intercept the Russian reconnaissance aircraft, were joined by a Voyager air-to-air refuelling aircraft from RAF Brize Norton.
The Tupolev Tu-142, NATO reporting name Bear F, is a reconnaissance, anti-submarine, marine warfare aircraft. The two Russian aircraft were operating close to UK airspace while remaining in international airspace.
According to the Royal Air Force, Russian aircraft operating within the UK Flight Information Region could be a "hazard" to other air users, especially as it was busy airspace over the North Sea.
Often these aircraft do not "squawk", which involves transmitting a code to identify the aircraft's intentions, position, etc. causing other civilian airliners in the area to be re-routed to prevent aircraft from flying too close.
Though the incident ended by early afternoon on Saturday, the Typhoons were joined by the Voyager refuelling aircraft, in case the situation developed, or another incident occurred and the Typhoons were required to be redeployed. Based at RAF Brize Norton, the Voyager is the RAF's only air-to-air refuelling aircraft, though it has at least one aircraft always available on the Falkland Islands to support Quick Reaction Alert (QRA) Typhoon jets there.
Speaking of the incident, an RAF spokesperson said: "As always our Pilots and their support team did a fantastic job, locating and shadowing the Russia aircraft quickly to ensure our area of responsibility was effectively policed, demonstrating our commitment to defend the UK and NATO."
Earlier this year RAF Typhoons and newly acquired Poseidon (P-8A) based at RAF Lossiemouth were forced to temporarily relocate while the runway underwent repairs, however, they were able to return in October.