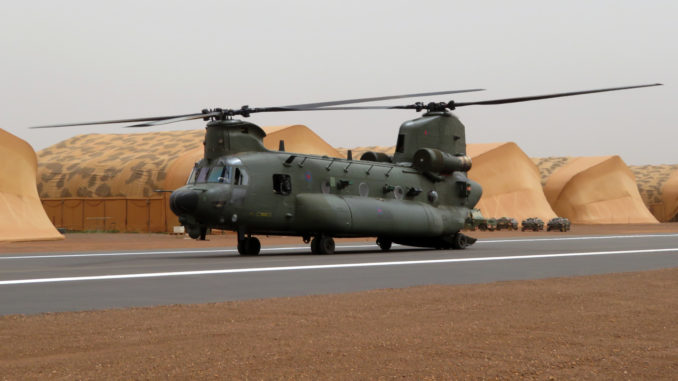 The Ministry of Defence (MOD) has confirmed that a deployment of three Royal Air Force (RAF) Chinook helicopters are now operational in Mali supporting French counter-terrorism forces.
The helicopters from RAF Odiham in Hampshire will provide logistical support to French combat forces conducting counter-terrorism operations as part of Operation Barkhane.
The deployment also includes 90 personnel to support the three helicopters and three temporary hangars have been built for the aircraft which will fly multiple each week in Mali.
Armed Forces minister Mark Lancaster said: "This deployment demonstrates the vital role our Armed Forces play, working alongside our French allies to tackle terrorism and reduce threats to European and UK security."
Minister for Africa Harriett Baldwin said: "This helicopter deployment demonstrates the UK's commitment to do more in the Sahel, alongside pounds of UK Aid providing lifesaving humanitarian support, and a bigger diplomatic network."
The Chinook is multi-role helicopter that can be operated from land or sea bases into a range of diverse environments, from the Arctic to the desert or jungle.  The aircraft can be armed and are primarily used for trooping, resupply and battlefield casualty evacuation.
The RAF has a mix of Mk 4 and Mk 6 aircraft, all fitted with digital glass cockpits.
Operation Barkhane is an ongoing anti-insurgent operation in Africa's Sahel region, which started on 1st August 2014. It involves over 3,000-strong French force, The operation is coordinated with five countries across the Sahel region includiong Burkina Faso, Chad, Mali, Mauritania and Niger. These countries are collectively referred to as the "G5 Sahel".