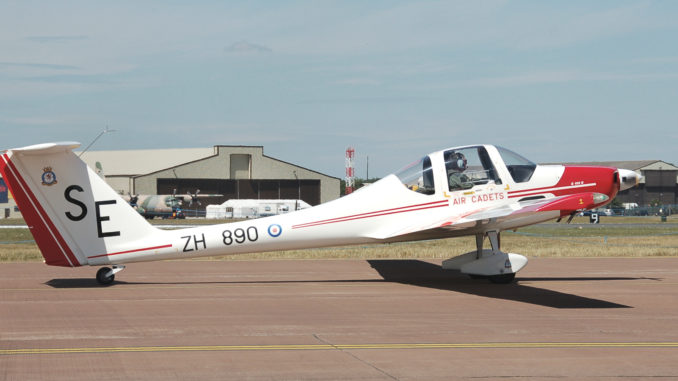 A batch of former MOD Vigilant T1 Motor-Gliders used to train thousands of Air Cadets have been sold to Hampshire based charity Aerobility.
Aerobility is a charity that gives flight experiences to disabled people who would not normally get the opportunity to fly an aircraft.
The charity has bought 63 of the aircraft from the MOD's Defence Equipment and Support (DE&S) organisation.
The first 10 aircraft will undergo maintenance and certification at German company GROB Aircraft SE, the original manafacturer, to be approved for Civil Aviation use.
The remaining 53 aircraft will be recertified in the UK by Southern Sailplanes in West Berkshire.
Clive Walker, head of the Defence Equipment Sales Authority (DESA) in DE&S, said: "I am very pleased to see the RAF Vigilant T1 gliders move on to a new lease of life, in particular supporting the excellent work of Aerobility in creating flying experiences and opportunities for those who might otherwise never get the chance to fly."
The first batch of aircraft will see Aerobility more than double its fleet and allow it to help around 2,600 people get in air each year compared the 1,000 it currently achieves.
A Grant form the UK's Department for Transport (DfT) has helped Aerobility complete the acquisition.
Transport Secretary Grant Shapps said: "General aviation is the engine room of the entire aviation sector, so it's vital that people from all backgrounds can access it. Some of our most successful pilots learnt to fly in a glider and I'm encouraged to see the work of charities like Aerobility offering similar experiences to people who may otherwise miss out."
The RAF retired the Vigilant T1 fleet in 2018 and the aircraft were expected to be scrapped.