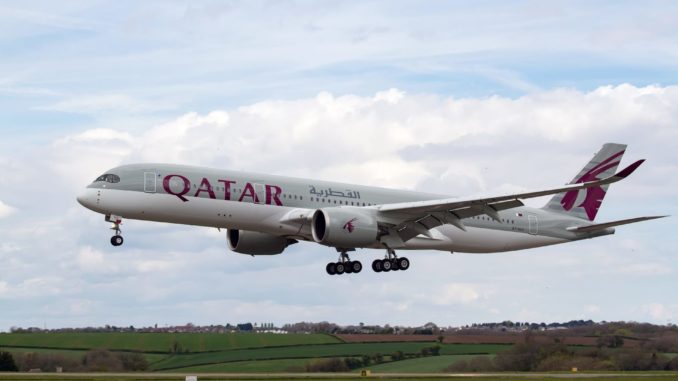 Qatar Airways Chief Executive His Excellency Akbar Al Baker has said his airline plans to be at Cardiff Airport forever as flights between Doha and Cardiff get underway, but it's not all about passengers.
One of the keys to the success of Qatar Airways new service linking the two capitals is freight, which will also feature heavily in the forthcoming Cardiff Airport Masterplan, due for publication this summer.
Speaking at a press conference about the new route Cardiff Airport chairman, Roger Lewis, said that Cardiff Airport's future will involve freight and warehousing at the airport and that was backed up by HE Mr Al Baker as he said that if the opportunity existed for freight to expand, they would look at operating dedicated freighters to Wales' National Airport.
The first service between Doha and Cardiff, which was operated by an Airbus A350-900, saw 45 tonnes of cargo over the return journey and the normal operating aircraft, a Boeing 787-8 allows for 10 tonnes of cargo to flow in and out of Cardiff.
The daily (from 17th June) Doha flight certainly isn't the end of Qatar's involvement in Cardiff though. HE Mr Al Baker said that he has a desire to build a 5-star hotel in the city and talks, albeit at a very early stage, had begun with First Minister Carwyn Jones. He did make it clear though that this would be a city centre hotel, not an airport hotel.
The hotel venture is indicative of the future HE Mr Baker sees in Wales though. Qatar Airways coming to Wales shows his belief that airlines should create markets and he sees the catchment area of Cardiff Airport as being bigger than that of Bristol, one of several reasons he didn't choose the smaller airport across the channel. Others being the size and operating restrictions that apply there and with Bristol's focus on low-cost passenger flights, a limited desire for freight operations.
Qatar Airways is a rapidly growing airline, growth that is only matched by its desire to be the best. Despite suffering adversity from neighbouring regions including blockades of airspace, Qatar Airways has continued to expand and grow its routes and fleet. The average age of a Qatar Airways aircraft is under 5 and this is maintained by constant fleet replacement. It has been a 5-star airline for 17 years and has been repeatedly voted the world's best airline.
Harrison Sharp, who wanted to be part of the inaugural flight, said "although this was a self-funded trip, it was such a privilege to be a part of one of the biggest days in Cardiff Airport's history. There was a real buzz around the airport. I overheard many of the staff talking about the new service to Doha. It was also lovely to overhear passengers travel plans onwards from Doha. Who would have thought that you can now fly pretty much anywhere in the Eastern Hemisphere with one stop from Cardiff on one of the worlds leading airlines and on one of the newest aeroplanes. Such a fantastic day!". We will be publishing his trip report soon!
Qatar Airways certainly sees a very bright future at Cardiff Airport and HE Mr Al Baker said: "Cardiff has long been on our wish list of destinations to add to our global route map, and we are delighted to be here today to celebrate this important milestone in the history of our airline. We are tremendously excited to now be able to serve the people of both Wales and South West England, providing them with world-class service and seamless connections to the many destinations on our global route network. We also look forward to bringing travellers from around the globe to Cardiff, enabling them to experience the many attractions this unique city has to offer."
Cardiff Airport chairman, Roger Lewis added "We welcome tourists from Doha and beyond to enjoy Wales' beautiful landscapes, traditions and culture. There are many great reasons to visit the stunning and diverse country of Wales, from innovative architecture, world-class entertainment, quality shopping and exceptional museums to beautiful countryside featuring rolling hills, national parks and scenic coastlines."
Flying from Cardiff Airport to Doha gives passengers access to more than 150 destinations worldwide across 6 continents.