Australian national carrier Qantas (QF/QFA) has set out its future Airbus fleet plans that include the Airbus A350 which will form the backbone of the airline's Project Sunrise, a project that will see any worldwide city just one flight away from Australia.
At a ceremony in Sydney, the airline announced it is ordering 12 A350-1000, 20 A220s and 20 long-range A321XLR's to fulfil its future fleet requirements.
At the event, Qantas Group CEO Alan Joyce said: "New types of aircraft make new things possible. That's what makes today's announcement so significant for the national carrier and for a country like Australia where air travel is crucial. The A350 and Project Sunrise will make any city just one flight away from Australia. It's the last frontier and the final fix for the tyranny of distance."
Qantas has also announced that under Project Sunrise, it will launch direct flights from Sydney to London in 2025 using Airbus A350s. The flights will be the worlds longest, lasting about 20 hours. Over an hour longer than Singapore to New York, the current longest flight.
Speaking about the smaller aircraft ordered, Mr Joyce added: "The A320s and A220s will become the backbone of our domestic fleet for the next 20 years, helping to keep this country moving. Their range and economics will make new direct routes possible. "The Board's decision to green light what is the largest aircraft order in Australian aviation is a clear vote of confidence in the future of Qantas."
Christian Scherer, Airbus Chief Commercial Officer and Head of Airbus International said: "Qantas is one of the world's iconic airlines, with a visionary spirit from its inception over 100 years ago. We are honoured by the confidence that Qantas is placing in Airbus and look forward to delivering to the Group one of the world's most modern, efficient and sustainable fleets. This decision by Qantas underscores the position of the A350 as the reference long-range widebody aircraft."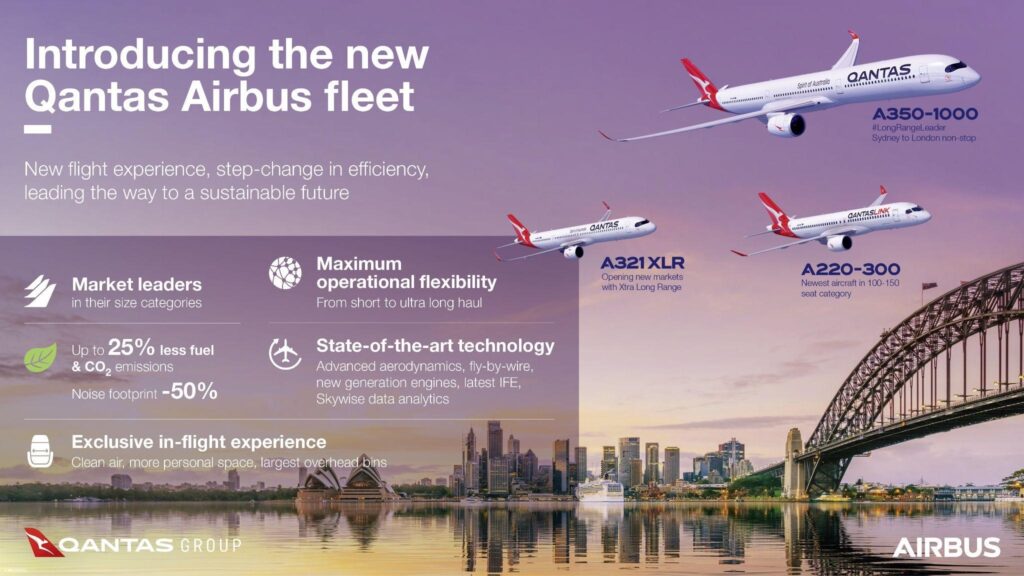 Long-haul comfort
The Airbus A350-1000 will be configured into a four-cabin layout for 238 passengers and at least 40% will be premium seating.
Qantas says that passengers will also be able to access a "wellbeing zone" located in the centre of the aircraft which will have a self-service snack bar and space for stretching and movement. This will help to combat the effects of spending 20 hours in the air in one go.