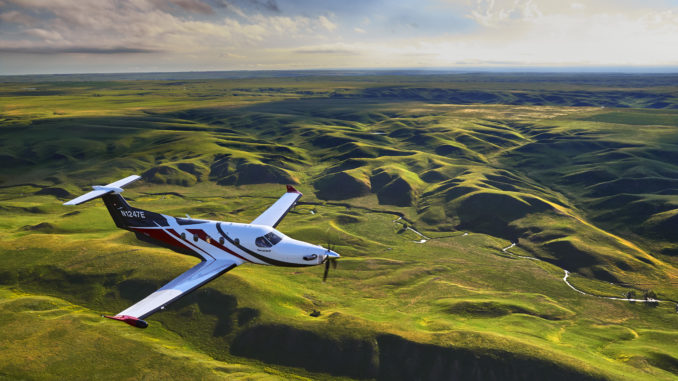 Police also investigating whether it was a breach of COVID-19 rules
A privately owned aircraft landed at a closed RAF Base without permission on Bank Holiday Monday according to the MOD's Air safety information management system (ASIMS).
The report filed says that a Pilatus PC12 N412MD took off from Fairoaks Airfield in Surrey and flew to RAF Valley on Anglesey.
As it was a Bank Holiday, RAF Valley was closed and work was being carried out on Runway 19.
According to the report the pilot attempted to call the Tower frequency several times but despite receiving no response, landed on Runway 19.
RAF Valleys fire crew saw the aicraft and assuming it was in distress attended the scene as an emergency.
It was quickly determined that the aircraft was not an emergency and the Military Provost Guard Service (MPGS) attended the scene to find out what happened.
The pilot told them he had flown from London to "go to the beach".
When the pilot was informed about the restrictions in place in Wales due to Coronavirus he told them that "it was ok as he had it two months ago".
The pilot went on to inform MPGS officers that he had found the airfield on Google Earth and read on Wikipedia that it handled civilian traffic as well.
RAF Valley is also home to Anglesey airport, which sees daily flights from Cardiff Airport only, but has a strict prior permission required (PPR) system.
The aircraft was searched by the RAF Police who found nothing suspicious and the pilot, who was the only person onboard the aircraft, was informed that he did not have authority to leave the base until it reopened the following day.
The pilot said he was departing regardless and the RAF chose not to block the aircraft in allowing it to depart at 14:15 local time.
Superintendent Richie Green of North Wales police told us: "We were contacted by colleagues from RAF Valley at 1.04 pm on Monday 25th May, reporting that a light aircraft had made an unauthorised landing at the airbase. The pilot was dealt with by Military Police.
"Whilst the incident is primarily being investigated by the RAF and Civil Aviation Authority, North Wales Police are currently considering potential breaches of the Covid legislation in Wales."
The Civil Aviation Authority (CAA) has confirmed it is aware of the incident and is investigating but said they couldn't comment further at this time.
The aircraft is registered to Rosedale Aviation Inc. based in Wilmington, Delaware in the US but the identity of the pilot, who is understood to be English, is unknown. N412MD had previously been on the UK register as G-ILMD.