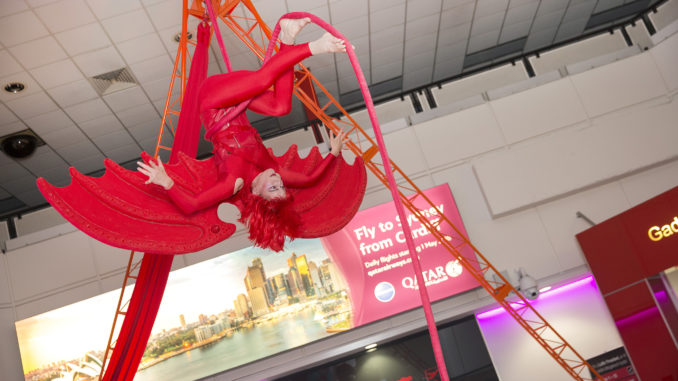 Cardiff Airport (CWL/EGFF) saw guests from the South Wales business and arts communities gather to see a spectacular one-off performance by Organised Kaos Youth Circus at the airport.
Art @ the Airport is the latest in a series of events delivered by Arts & Business Cymru.
Organised Kaos Youth Circus did a performance called COCH, specially devised by the contemporary circus company for Art @ the Airport.  It depicted an aerial interpretation of the welsh myth of the battle between the white and red dragons.
Deb Barber, CEO of Cardiff Airport, said: "As a national asset we love nothing more than opening our doors to events as unique as this. We're always delighted to be able to offer our surroundings to celebrate and nurture the Welsh arts industry.
Arts & Business Cymru is an excellent organisation that brings businesses together in a new and exciting way. We were honoured to be involved and look forward to strengthening our relationship further in the future."
Arts & Business Cymru Chief Executive Rachel Jones added: "By taking performance into unusual settings across Wales, we aim to make the arts truly inclusive and accessible to all. 
It has been a huge pleasure to work in close partnership with two of our valued members to deliver this special event. Huge thanks are due to all at Cardiff Airport for their vision and support in allowing us to take over their terminal in such a creative way!"