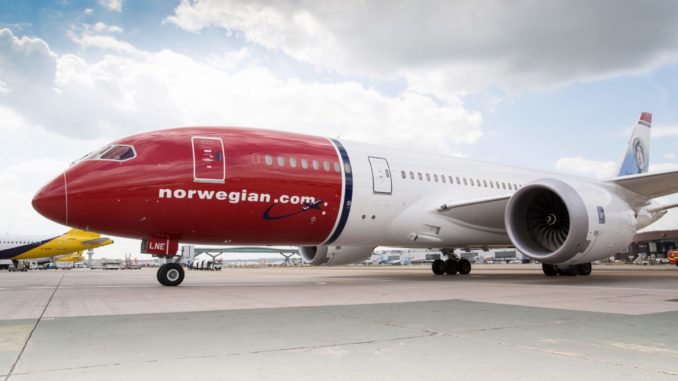 Low-cost carrier Norwegian has said it is planning to base up to eight long-range A321neo aircraft at London Gatwick (LGW/EGKK) in 2020 as it plans to expand its trans-Atlantic operations to the US Mid-west including Detroit, Minneapolis and Philadelphia.
Chief Executive Bjorn Kjos made the statement ahead of the results presentation which showed that the Oslo based company had a turbulent year in 2017 with a pre-tax loss of $137m. Compared to a pre-tax profit of $194m in 2016.
Norwegian has been carrying on with a phase of rapid expansion, especially on trans-Atlantic routes. which meant it needed to recruit large numbers of crew to fly its rapidly expanding fleet of 787 Dreamliner aircraft and due to a lack of type-rated pilots, Norwegian had to take on the expense of training them.
Speaking at a media event Mr Kjos said: "Obviously you need to build up a network and it takes time, and there aren't any certified and available 787 pilots – it means that you have to train them. Last year we took in more than 600 pilots and that is not free… you have to do it"
Mr Kjos said that the reason Norwegian is expanding now is partly due to the availability of slots adding: "In two, three years we won't have available slots in New York as an example."
This all came at a cost though and being caught short with pilots combined with a problem with 737 Max engines led to Norwegian having to lease older planes and move crews. The net result left Mr Kjos saying that "The best thing about 2017 is that it's now 2018.".
Looking ahead Mr Kjos thinks that they are now on top of the recruitment situation and plans to have 32 of its 42 Dreamliners online by the end of 2018 and as for its route network Mr Kjos said: " two-thirds of our expansion is coming from existing routes so its easier for us now this year to expand than it was last year"
The A321LR aircraft are due for delivery in 2019 which, with a range of over 4500 miles, opens up new route opportunities for the airline. It is understood that the airline is particularly interested in breaking into the Asian market in the next 2 years. It already flies to Singapore from Gatwick.
It has already demonstrated it is ready to take on Legacy carriers with the launch of the London Gatwick to Buenos Aires route. A route previously only served by British Airways.
Financiers will be looking for a change in the current strategy to see Norwegian return to profit in 2018/19.