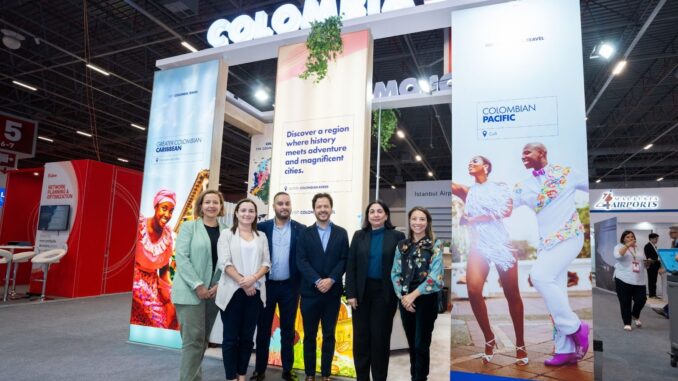 ProColombia, the trade, tourism and investment agency of Colombia has announced new international connectivity between Colombia and Switzerland following talks at Routes Worlds 2023 held in Istanbul, Turkiye.
A new twice-weekly route operated by Swiss leisure airline Edelweiss will operate between Bogota, Colombia and Zurich, Switzerland from 22nd November 2023.
Gilberto Salcedo, Vice President of Tourism at ProColombia, says: "We are delighted to announce the new Edelweiss route, which is the latest sign of Colombia's strong growth as an international tourism destination, and our commitment to working with the global aviation industry to drive increased capacity and connectivity and sustainability.
"The upcoming Routes Americas exhibition in Bogota, March 2024, will be the perfect occasion for the sector to see the progress we have made and our country's potential as an investment partner, as well as our unique hospitality, culture and nature, which are attracting the world to discover Colombia, the country of beauty."
Colombia has seen a strong recovery for tourism following the COVID-19 pandemic with over 4.5 million visitors coming to the South America country in 2022.
This year also started strongly with a 32% growth in tourism in the first 6 months of the year compared to the same period in 2022 prompting ProColombia to focus on new routes and markets for the future.
Using the brand Colombia, the Country of Beauty, the message from Colombia is it is a country that promotes the natural, cultural, and historical attractions that make Colombia a unique business and tourism destination.
It is a nation that celebrates the cultural richness of the country, the warmth of its people and its impressive natural landscapes
As Colombia holds 10% of the planet's biodiversity, it ranks globally in first place for bird, butterfly, and orchid species diversity, and is the only country in South America with coastlines bordering two oceans.
ProColombia says that visiting Colombia is like travelling to six countries in one since travellers can visit the six different tourism regions the country has to offer: Greater Colombian Caribbean, Colombian Eastern Andes, Colombian Western Andes, Colombian Massif, Colombian Pacific, and Amazon – Orinoquía.