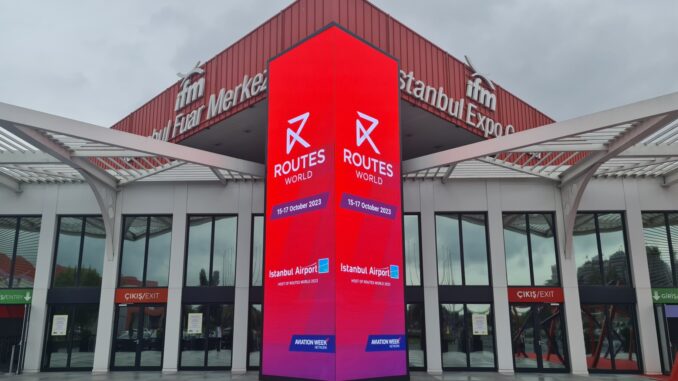 The Routes World 2023 show and conference has taken place over the last few days with the worlds airlines and airports coming together to discuss route development and the future of air travel.
The annual event was hosted this year in Istanbul, Turkiye by iGA Istanbul Airport, an airport that just like the city of Istanbul itself connects continents.
The show itself culminated in a gala dinner and awards ceremony which saw Paris Charles de Gaulle Airport come out as the overall winner in the top award of the night.
It was the second award of the night for the Paris CDG team which also won the award for best airport over 20 million passengers.
The airport was praised for promoting competition between key markets as well as developing connectivity which has resulted in the airport adding 71 new routes and 23 new destinations to its map.
Acknowledging the award David Dufros, aviation development director at Paris CDG said: "Paris CDG Aviation Development team is very proud to have won the 20m pax Routes World award this year! We would like to thank our airline partners for this achievement! This is the result of passionate and dedicated work initiated many years ago, for the benefit of our clients. This award encourages us to continue developing air connectivity in a sustainable way."
Closer to home, Newcastle Airport won the best airport in the under 5 million category after it attracted four new airlines and 30 new routes in 2022.
Leon McQuaid, director of aviation development at Newcastle Airport, said: "We are absolutely delighted to have won this prestigious Routes World award. A big thank you to all of our airline partners for nominating us, which is great recognition for all of our teams' dedication and hard work to deliver for our airlines."
In the airline sector, Spanish low-cost carrier (LCC) Vueling was voted best airline of the year in recognition of its commitment to building a sustainable future for the IAG-owned airline.
Vueling's network development manager, Daniel Johan Reus, said: "Vueling is extremely proud to have won the prestigious award for best airline in terms of sustainable growth at the Routes World conference. Our commitment to lasting impact is a testament to the power of perseverance, thoughtful planning, and dedication. This award is not just a recognition of our past successes, but a promise to continue our journey towards a sustainable future."
Cape Town, South Africa was voted the best destination with the award going to the Cape Town Connect team which is bringing public and private entities together to enhance air connectivity within the region.
David King, project manager at Cape Town Air Access, said: "We are honoured to be recognised for the second year in a row with the Routes World Destination Award. This achievement underscores our belief in the power of passion, creativity, and innovation and the positive results that can be achieved with a small, dedicated team. This award is a testament to the resourcefulness and commitment of all the Cape Town Air Access partners in promoting Cape Town International Airport and the Western Cape province as a destination of choice for airlines and passengers alike and a must-visit place for travellers worldwide."
Full List of Winners
Overall Winner – Paris Charles de Gaulle Airport
Airport Under 5 Million Passengers – Newcastle International Airport
Airport 5-10 Million Passengers – Larnaka International Airport
Airport 10-20 Million Passengers – Brussels Airport
Airport Over 20 Million Passengers – Paris Charles de Gaulle Airport
Destination – Cape Town Air Access
Airline – Vueling
Rising Star – Tatamo Rakotozafy, Head of Aviation Marketing, Ravinala Airports
Individual Leadership – Vicki Jaramillo, Chief Development Officer, Orlando International Airport