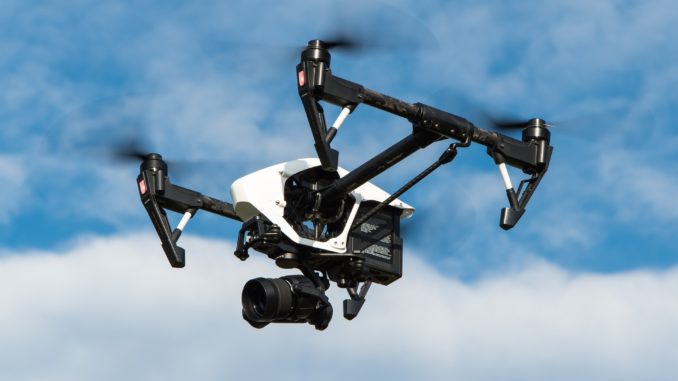 The government has today published The Drone Bill which is designed to give police new powers on illegal and unsafe drone use.
The draft bill will go before Parliament in Spring 2018 and will include changes to the Air Navigation Order to make drone users take safety awareness tests.
The new measures proposed include making mandatory for drone owners to register their equipment and forcing drone operators to use apps so they can ensure any planned flight would be safe and legal.
Other measure include banning drones from the vicinity of airports and limiting their maximum altitude to 400ft.
Reports of near-misses with drones and aircraft have increased in recent years and recently pilots have reported drones being flown on the approach to Cardiff Airport and London Gatwick had to temporarily suspend flights when a drone was reported in the area. London Heathrow and City Airport have also had drone incidents.
The bill is being proposed by the Department of Transport, Civil Aviation Authority and Innovate UK backed by Baroness Sugg CBE, Aviation Minister and Parliamentary Under Secretary of State for Transport.
Baroness Suggs said "Drones have great potential and we want to do everything possible to harness the benefits of this technology as it develops.
"But if we are to realise the full potential of this incredibly exciting technology, we have to take steps to stop illegal use of these devices and address safety and privacy concerns.
"These new laws strike a balance, to allow the vast majority of drone users to continue flying safely and responsibly, while also paving the way for drone technology to revolutionise businesses and public services."
National Police Chiefs' Council Lead for Criminal Misuse of Drones, Assistant Chief Constable Serena Kennedy said: "Police forces are aware of the ever increasing use of drones by members of the public and we are working with all relevant partners to understand the threats that this new technology can pose when used irresponsibly or illegally. Do not take this lightly – if you use a drone to invade people's privacy or engage in disruptive behaviour, you could face serious criminal charges.
"Police officers will use all available powers to investigate reports of criminal misuse of drones and seek the appropriate penalty. Make sure you know the rules for using a drone because it is always your responsibility to ensure that you are acting within the law and in line with the Civil Aviation Authority's Drone Code."
Drones have many legitimate uses for commercial reasons including aerial survey and filming. and of course, can be used personally to create stunning images. The new bill is not intended to stop that. But with drones capable of flying to 500ft or higher available for less than £50 it is about giving police powers to tackle anti-social or dangerous drone use by untrained users.
Tim Johnson, Policy Director at the CAA said: "The Civil Aviation Authority (CAA) supports the safe development of drones in the UK. Drones can bring economic and workplace safety benefits but to achieve those we need everyone flying a drone now to do so safely. We welcome plans to increase drone operator training, safety awareness and the creation of no-fly zones.
"We have been working with Government and the aviation and drone industries to educate drone operators by successfully promoting the Dronecode , which provides an easy to follow guide to UK drone rules."
According to the CAA in 2016 there were 70 recorded near-misses between aircraft and drones.
Drone footage over Manchester – Anthony Bryant Photography / YouTube