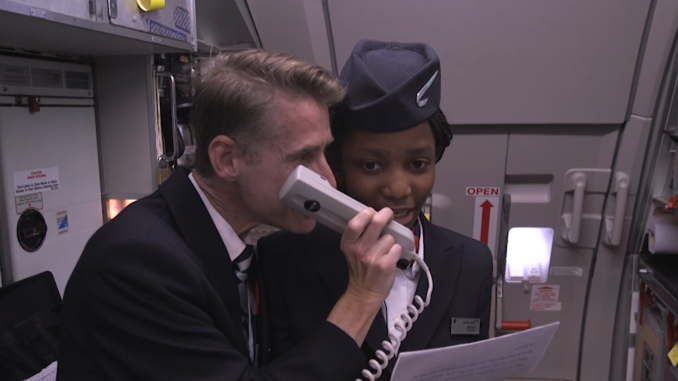 British Airways (BA/BAW) has helped a dream come true for Thirteen-year-old Majorie Nakmulli-Mukiibi from East Ham in London.
Majorie has recently completed a grueling series of chemotherapy for Hodgkin Lymphoma and it was whilst in hospital she told her mother that she dreamed of working as cabin crew for the airline.
The charity, Rays of Sunshine, which grants wishes for seriously ill children contacted British Airways who arranged to make Majorie's dream come true as part of their BA Magic campaign.
the airline arranged for Majorie to go to KidZania London, a children's education and entertainment attraction that encourages children to experience different careers.
Along with her brothers and sisters, Majorie was learning about what it takes to be a pilot or member of cabin crew, when Christabel Bigwood, a real-life member of British Airways cabin crew, walked in. Christabel then revealed to a shocked Majorie that she would be helping her and the cabin crew team on a real passenger flight to Glasgow later that day.
After being taught the British Airways safety briefing, Majorie stood in front of 160 passengers demonstrate the lifejacket, oxygen mask, seat belt and safety routines before helping the crew serve meals and drinks.
Speaking about the experience Majorie said: "I've always wanted to be British Airways cabin crew, and today my dream came true! From the moment I found out what was really going on, I couldn't stop smiling, I was so excited. One of my favorite parts was serving food and drink to the customers. I'm really proud of all that I achieved."
Cabin crew member Christabel Bigwood, who mentored Majorie throughout the day, said: "I was honoured to play the part of Fairy Godmother for Majorie. When you think of what she's been through with the cancer, it really touched me to see her willpower What a remarkable little girl."