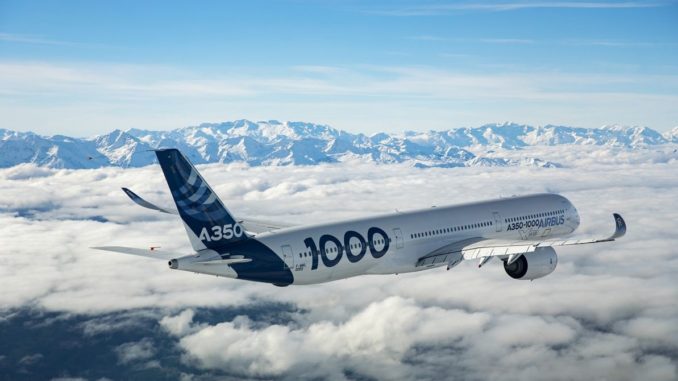 On the 25th November 2017 the Airbus A350-1000 officially got its certification by the Federal Aviation Administration (FAA) and the European Aviation Safety Agency (EASA).
Airbus' biggest variant of the A350 got its type rating last Tuesday after a extensive flight test program carried out by the Airbus team over the course of 1,600+ hours flight time. The A350-1000 is the biggest and 3rd variant of the A350 family made by Airbus, The A350 comes in as direct competitor to the Boeing 787 family which is working on getting it's 787-10's type rating also.
The A350-1000 currently has over 160 orders from airlines including Virgin Atlantic, British Airways and Qatar Airways. Compared to the 787-10's 171 orders with airlines such as Singapore Airlines, Air France-KLM and Emirates who ordered 40 aircraft at the Dubai Air Show, the A350-1000 vs 787-10 race is in favor of Boeing but not by much.
Airbus claims the A350-1000 can seat 366 passengers in a typical seat configuration and 440 in the max seat configuration.
Airbus COO and President Of Commercial Aircraft, Fabrice Brégier said "Receiving the A350-1000 Type Certification from EASA and FAA less than one year after its first flight is an incredible achievement for Airbus and for all our partners who have been instrumental in building and testing this superb wide-body aircraft, The A350-1000 benefits from the maturity of its successful brother, the A350-900, which has translated into excellent right-on-time performance. We now look forward to deliver the first aircraft to Qatar Airways by the end of the year."
Airbus say they are on target to get the first A350-1000 delivered to the first customer by the end of the year.