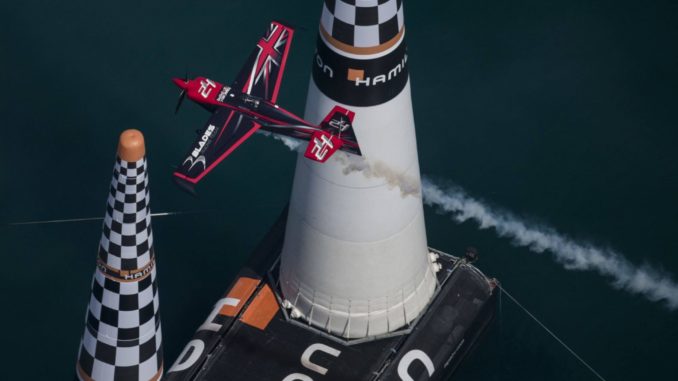 Single point sees Ben Murphy 8th in standings
Australia's Matt Hall won the Red Bull Air Race in Cannes, the first ever air race in France.
Britains Ben Murphy of The Blades Racing Team faced an uphill challenge after a poor qualifying saw him face the fastest qualifier Michal Goulian in the Round of 14.
Sadly Ben lost the Round of 14 race with a time of 0:59.042, compared to Goulian's 0:57.875. The time put Ben in 10th Place overall giving him with just 1 point from the weekend.
In reaction to the race Ben said: "After the dream run of Abu Dhabi, this week has been a little more difficult. We had issues with the aeroplane to work out, which are challenging even though you try not to let it affect you. After the penalty in Qualifying, it was always going to be a really tough battle against Mike, and all I wanted to prove was that we could put yesterday behind us and make a nice clean run, which we did. So actually I'm quite happy with the result, it's a good end to the weekend given where we were yesterday. The biggest takeaway for us now is how well the team works. We had some problems and the team came together exceptionally well. Both Abu Dhabi and Cannes have been amazing venues, and we couldn't have hoped for better conditions here in France, with the Croisette full of thousands of people enjoying the race."
The result puts Ben into  8th Place overall in the 2018 championship having scored points in both 2018 races so far.
2018 Red Bull Air Race Standings
| | | | | | |
| --- | --- | --- | --- | --- | --- |
| 1 | Michael Goulian | USA | 15 | 9 | 24 |
| 2 | Matt Hall | AUS | 6 | 15 | 21 |
| 3 | Yoshihide Muroya | JPN | 12 | 7 | 19 |
| 4 | Matthias Dolderer | GER | 0 | 12 | 12 |
| 5 | Martin Sonka | CZE | 7 | 3 | 10 |
| 6 | Kirby Chambliss | USA | 9 | 0 | 9 |
| 7 | Mika Brageot | FRA | 3 | 6 | 9 |
| 8 | Ben Murphy | GBR | 5 | 1 | 6 |
| 9 | Juan Velarde | ESP | 0 | 5 | 5 |
| 10 | Francois Le Vot | FRA | 4 | 0 | 4 |
| 11 | Pete McLeod | CAN | 0 | 4 | 4 |
| 12 | Petr Kopfstein | CZE | 2 | 2 | 4 |
| 13 | Nicolas Ivanoff | FRA | 1 | 0 | 1 |
| 14 | Cristian Bolton | CHI | 0 | 0 | 0 |