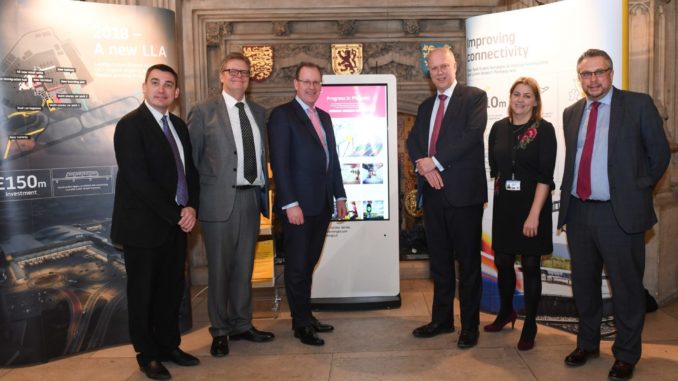 London Luton Airport (LTN/EGGW) is hosting an exhibition this week at the Palace of Westminster to celebrate its 80th anniversary.
The past 80 years has seen London Luton grow from an aerodrome to a major international airport which saw its busiest-ever year in 2017, with 15.8 million passengers travelling through the airport, an 8.6% increase from 2016.
To meet increased demand, the airport is currently undergoing a £150 million transformation to increase its annual capacity to 18 million passengers by 2020, and upgrade facilities for passengers.
2018 will see London Luton marking several important milestones in its transformation, including the official opening of the newly-extended terminal building. Construction will also begin on a new Mass Passenger Transit (MPT) system, which is being delivered by Luton Borough Council. Once complete, the MPT will operate 24 hours a day and replace the current shuttle bus between Luton Airport Parkway (LAP) station and the terminal, reducing the total journey time from central London to under 30 minutes.
London Luton has never been served with an express rail service despite being London's fastest-growing major airport. The airport is calling for four trains per hour to stop at Luton Airport Parkway as part of the new East Midlands rail franchise. The airport says this can be achieved through a simple timetable change that would require no capital expenditure and would create significant economic growth in the local region and across the UK.
Gavin Shuker, MP for Luton South, said: "I'm incredibly proud to represent London Luton Airport as part of my constituency. I hope MPs from all sides of the House will visit the exhibition this week and learn about the airport's rich history and bright future. I have already joined the airport in lobbying the Department for Transport for the introduction of an express-style rail service and I invite others to do the same to ensure LLA can reach its full potential."
Nick Barton, CEO of LLA, said: "The airport has come a long way in 80 years. The exhibition celebrates our history, but also looks to the future, as this anniversary year will see some of the airport's biggest changes.
"To ensure the airport thrives for another 80 years, we need to ensure rail links are as strong as they can be. We have that opportunity as part of the East Midlands rail franchise, which allows us to create an express-style rail service to the airport through a simple timetable change. We're working with the Government and rail operators to try to make this happen."
The Westminster kicked off on Monday with a reception at the House of Commons which was attended by a number of ministers and Members of Parliament including the Secretary of State for Transport Chris Grayling and Aviation Minister Baroness Sugg.