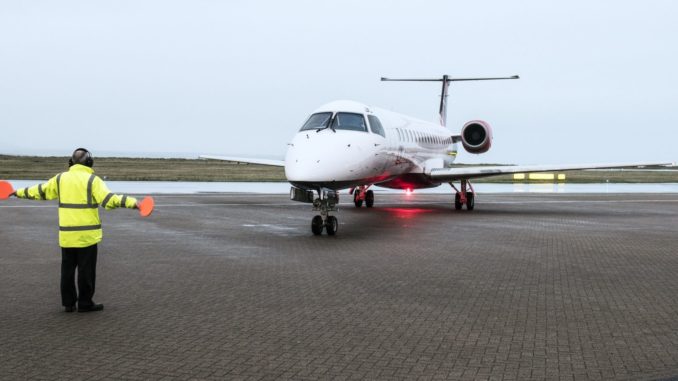 Leading regional airline Loganair (LM/LOG) has launched new flights from London Southend Airport (SEN/EGMC) to Glasgow and the Hebridean island of Stornoway.
The airline's three non-stop flights to Glasgow got underway yesterday (28th March), and will operate every weekday as well as weekend services. All of which are operated by its efficient fleet of Embraer 145 regional jets.
The early morning flight is designed as a 'red-eye' service, will enable business travellers to complete full working day in Glasgow before an evening trip back to London.
In addition to the Glasgow services the airline has introduced introduced six "one-stop same plane" flights per week to the Outer Hebridean Airport of Stornoway.
The flights include a short a 30-minute stopover in Glasgow during which customers can remain on the aircraft meaning they can go from London to the Outer Hebrides in less than three hours.
Loganair's Managing Director Jonathan Hinkles said: "These new air services are the ideal gateway to Scotland from the Southeast. The schedule to Glasgow is created to offer maximum flexibility for business customers, and as the only airline to offer an inclusive baggage allowance, onboard service and attractive frequent flyer programme within our lowest fare, we're offering a more inclusive and rewarding way to travel North.
"We're also seeing a steady increase in bookings from customers travelling to Stornoway; our new one-stop, same-plane service to the Outer Hebrides means those looking to escape the hustle and bustle of London and the South-East can reach the peace and serenity of the Scottish islands in less than 3 hours"
Loganair has been expanding across its network following the collapse of rival BMI Regional (FlyBMI) . The airline has been winning awards for its performance and service with European Regional Airline Association voting it Airline of the Year.
Glyn Jones, CEO of Stobart Aviation, owners of London Southend Airport said: "The Glasgow link will be a popular choice for business customers while also offering ongoing connections to Loganair's Highland and Island network. 
"We're also extremely proud to be the first London Airport with a direct airlink to Stornoway in the Outer Hebrides – now accessible in under 3 hours."
London Southend has also seen recent rapid growth as it offers a real alternative to travellers from London. Its less than hour by train from central London and offers faster check-in and security pass through than the busier airports.
The new Glasgow and Stornoway services add to the London to Aberdeen link which launched two weeks ago.