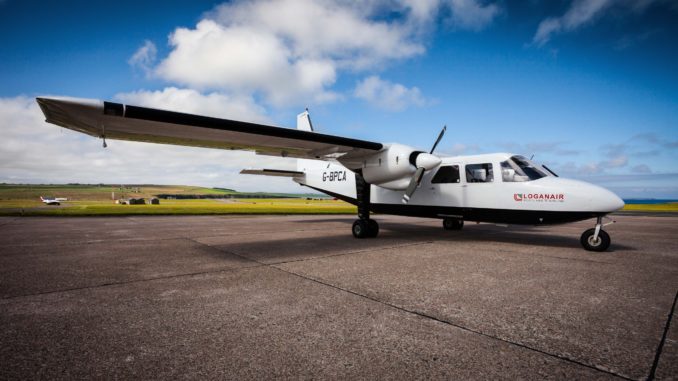 Loganair (LM/LOG) has secured a new Public Service Obligation (PSO) contract to operate an Inter-Isles air service for the Orkney Islands for another 4 years
The air links connect the islands of North Ronaldsay, Papa Westray, Westray, Sanday, Stronsay and Eday with Kirkwall and are considered a life line by islanders.
The routes are operated by two Britten-Norman Islander aircraft which are based at Kirkwall and annually carry around 20,000 people.
The new contract award secures the jobs for 10 pilots, engineers and ground staff dedicated to the services at Kirkwall.
Loganair's chief executive Jonathan Hinkles said: "We're delighted and privileged to have been chosen to deliver Orkney's essential Inter-Island air services for a further four years.   It's a vital service for the prosperity of the North Isles, and our ability to retain this contract is entirely due to the experience and hard work of our dedicated team in Kirkwall.    
"The four-year contract award provides us with certainty on which to plan for the future – whether that be the transition to new low or zero-carbon technology or in the recruitment and training of staff in Orkney to work on the Inter-Isles operation.   The North Isles services are a key part of Loganair's DNA, and despite our expansion as an airline, we remain today as committed as ever to serving the communities of Orkney."
Loganair has been operating the routes since it started them together with the Orkney Islands Shipping Company in 1967.
Orkney Councillor Graham Sinclair said: "Communities in our North Isles have been served by Loganair for more than half a century and now, following a competitive tendering process, the airline has been awarded the four-year contract once again. 
"In these ever-challenging times with uncertainty around every corner, I am sure the continuity of service will be welcomed by residents. 
"I also welcome Loganair's future plans which include conversion to use of low-carbon propulsion which can only but assist with our attempts to reduce our carbon footprint."