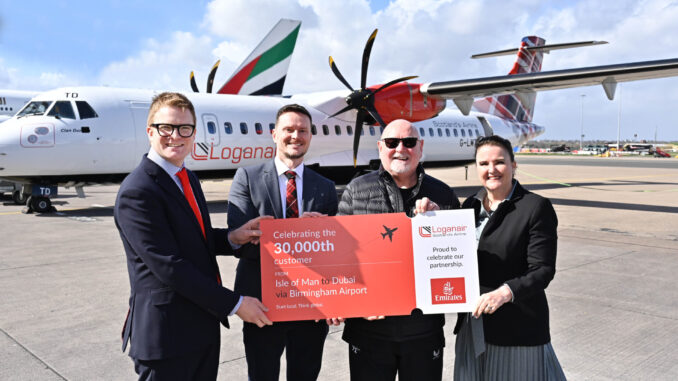 Leading regional airliner Loganair (LM/LOG) has it a milestone of 30,000 passengers on its Isle of Man to Birmingham route.
Isle of Man resident, Sidney Cunningham, was Loganair's 30,000th passenger to fly from Isle of Man to Birmingham and as a result, was gifted a free return flight courtesy of Loganair.
Sidney Cunningham said: "I always enjoy flying with Loganair and Emirates, and this has been quite a surprise. I am a frequent traveller and have visited everywhere from Bangkok to Glasgow, and the Loganair partnership with Emirates is vital for connecting communities like Isle of Man, to the rest of the world."
Sidney was using Loganairs interline agreement with Emirates to travel to Dubai via Birmingham.
Richard Jewsbury, Divisional Vice President UK at Emirates, said: "Our regional hubs across the UK offer passengers a gateway to the world. Birmingham is a key hub for Emirates, providing better connectivity to  leisure travellers, businesses and communities in the region. In July, we'll also be celebrating the return of Emirates' iconic A380 aircraft, offering customers even more travel choices this summer. We look forward to welcoming Mr Cunningham on his upcoming flight with us and to continue connecting passengers to more than 140 destinations via our home and hub, Dubai."