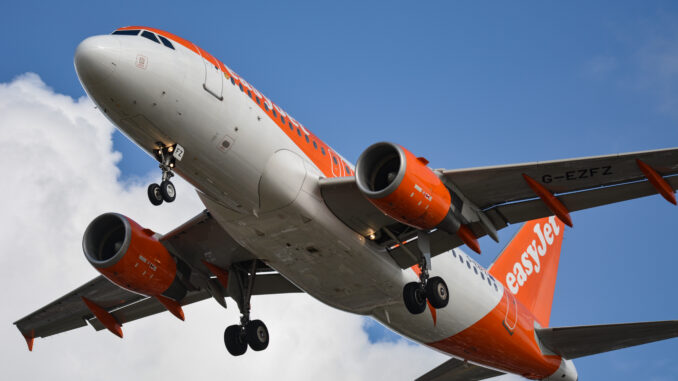 Low-cost carrier easyJet (U2/EZY) has outlined a raft of new routes from Belfast International and Belfast city which is the equivalent of 140,000 additional seats from the Northern Irish capital.
The airliner is launching brand new routes from Belfast City (BHD/EGAC) to London Luton (LTN/EGGW) and Manchester (MAN/EGCC) with up to 4 flights per week on both routes from 26th June 2023.
Together with the routes from Belfast International (BFS/EGAA) the extra capacity will be on routes to London Gatwick (LGW/EGKK), London Luton, Glasgow (GLA/EGPF), Edinburgh (EDI/EGPH) and Manchester.
Belfast International to London Gatwick will now offer up to 41 flights per week, to London Luton up to 27 flights per week, up to 30 flights per week to Manchester, 28 to Edinburgh and 33 to Glasgow.
From Belfast City there will be up to 21 weekly flights to London Gatwick and 4 flights per week to Glasgow in addition to the new routes.
Ali Gayward, easyJet's UK Country Manager, said: "We know how important it is to support UK connectivity so people can visit friends and loved ones, do business, and explore more of what the UK has to offer, so we are delighted to be providing customers with even more direct and convenient domestic connections that we know will prove popular for business and leisure travellers alike, all with great value fares and friendly service.
"easyJet offers more seats on UK domestic routes than any other carrier and we're further strengthening our network from Northern Ireland today, by offering even more seats on key domestic routes and launching two new routes to serve customers travelling between Belfast City and the major hubs of London and Manchester.
"And, with fares from just £21.99 and Easter around the corner, now is a great time to book with easyJet for a last-minute spring break or summer getaway and we look forward to taking even more of our customers away this summer."
Katy Best, Commercial Director at Belfast City Airport, added: "The announcement of services to London Luton and Manchester from Belfast City Airport is fantastic news for passengers, coming only six months after easyJet's last route launch to Glasgow.
"In the space of 18 months, easyJet has increased its capacity and the number of routes operated to six, which is not only a testament to the strength of our partnership but also showcases our commitment to providing passengers with choice, convenience, and flexibility."
"easyJet's flights to London Gatwick, Liverpool, Bristol, and Glasgow have already proved a massive success and we look forward to welcoming more easyJet travellers through the terminal doors."