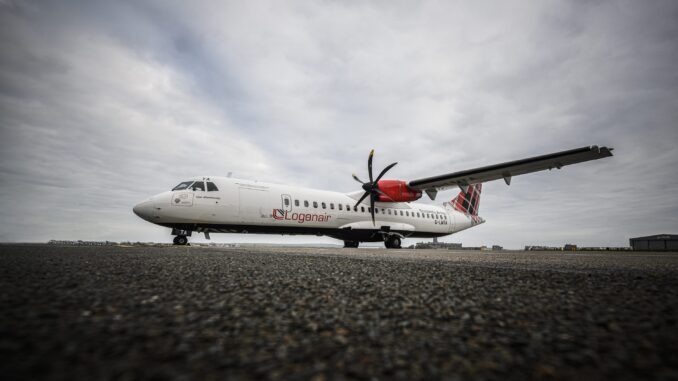 Leading UK regional airline Loganair (LM/LOG) has outlined a multi-million point fleet upgrade as it brings eight new ATR aircraft into the fleet.
The airline has sold its sole remaining Saab 340B, in a deal worth £12 million, which has helped it come to agreements on new aircraft to future proof its fleet.
Loganair already operates a fleet of 42 aircraft, 15 of which are already ATR turboprops., Seven ATR 42s and Eight ATR 72s.
The new ATRs will help Loganair continue to reduce emissions as they have a 27% reduction in carbon emissions compared to the Saab 340s,
Loganair Chief Executive Jonathan Hinkles said: "The Saab 340s have served us, and our customers, superbly well over the last two decades but it's time for us to transition to a new generation of aircraft. 
"In selecting our future fleet, it's important to have an aircraft which builds upon our environmental credentials while withstanding island weather conditions and providing accessibility for all customers in the communities we serve – we've found all those characteristics and more in the ATR turboprop.
"Our multi-million-pound investment in ATR aircraft will safeguard connectivity for future generations within the Highlands and Islands air network, on which so many communities depend. We serve the vast majority of air routes in the Highlands and Islands on a purely commercial basis, with no direct subsidy – unlike other forms of transport – and are funding the introduction of new aircraft ourselves."
The new ATR aircraft are equipped to use satellite-based approach systems, enabling operations to continue safely in conditions of reduced visibility such as fog or low cloud.    Loganair and other airlines continue to lobby the UK Government to restore access for UK airlines to the EGNOS satellite system – or a suitable alternative – to enable the use of these systems at UK airports following its decision to withdraw from the European EGNOS satellite programme in 2021.
Nathalie Tarnaud Laude, Chief Executive Officer at aircraft manufacturer ATR, said: "We're delighted to see Loganair – one of Europe's most successful and long-established regional airlines – transition to ATR aircraft. They are the most environmentally efficient of any aircraft in their class and deliver greater comfort and cabin quietness for customers. With over 1,600 ATR aircraft in service worldwide and production continuing today, we're confident that Loganair has made the right choice for its future fleet, and we look forward to further growing our partnership over the coming years."