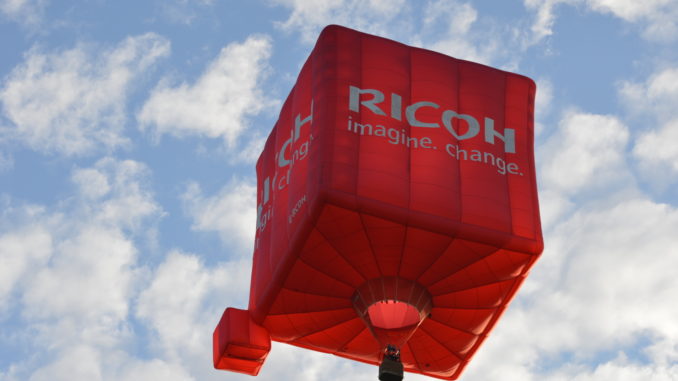 Hot air balloon rides are incredible flight experiences with unique and breathtaking views. If you've ever dreamed of gentle, serene flights in light or zero wind then this is the experience for you. Balloons rise and descend seemingly effortlessly and provide an uninterrupted view of landscapes. The sensation of floating in the sky over rolling hills with panoramic views (with perhaps a champagne toast) is the epitome of a good time.
Sunrise flights or sunset flights? The air is generally still at both times of the day, particularly in the summer months. If you recall, you may have seen balloons at both times of the day.
And as for romance, a hot air balloon ride is one of those perfect special occasions that could end up with a marriage proposal. Imagine popping the question as you glide over some stunning scenery.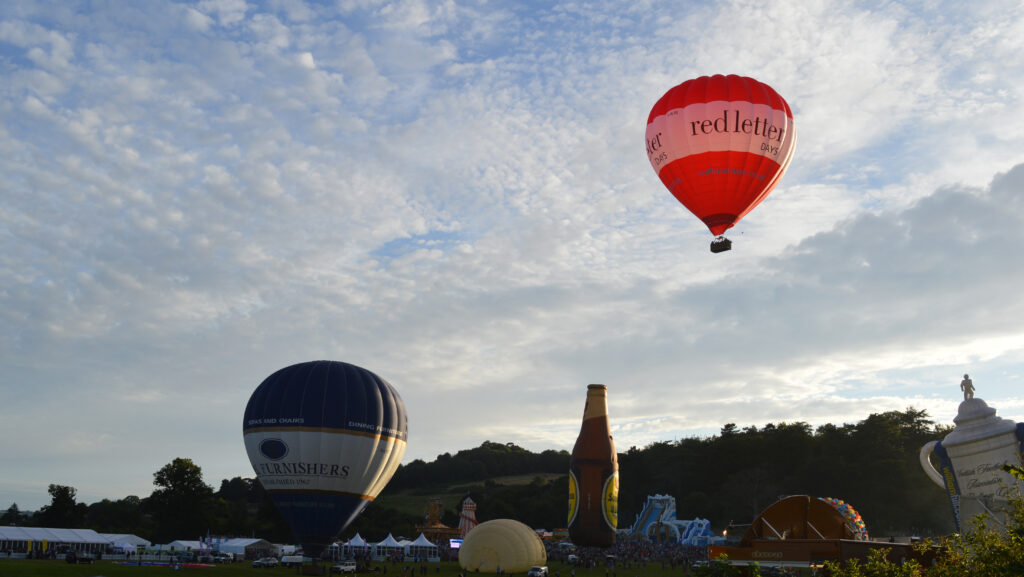 What are hot air balloons and how do they work
Hot air balloons are essentially large bags made of fabric that are filled with hot air. The air is heated either by a burner which causes the balloon to rise into the sky. Balloons can be steered in any direction by manipulating the height of the flame and adjusting the position of the vents on the balloon. They are equipped with a gondola, more commonly referred to as the basket, which can hold up to 12 people.
Gas burners are an essential component of a hot air balloon. They are used to generate the gas that causes the balloon to rise into the sky. There are many different types of gas burners, each with its own unique features. Burners are designed for use with propane and are equipped with a regulator, which allows you to adjust the flame height and heat output. Burners have an automatic ignition system, which makes it easy to light the flame.
The main challenge is achieving and maintaining buoyancy. Balloons rise because the heated air inside them is less dense than the colder air around them. This difference in density creates a pressure gradient that pulls the balloon up. The balloon's fabric skin traps the heated air inside. If the temperature inside the balloon rises too high, the balloon will become too buoyant and will ascend too quickly. So the pilot will give short bursts (instead of a constant burn) to the burner to heat the air more slowly.
The history of hot air ballooning
Hot air ballooning has been around since 1783 when French scientist Joseph Montgolfier first launched one into the sky. However, the first hot air balloon flight didn't take place until 1785, when Jean-Pierre Blanchard and John Jeffries travelled from Dover to Calais in a hot air balloon.
Since then, ballooning has become a popular pastime all over the world. In the United States, ballooning is regulated by the Federal Aviation Administration (FAA). The FAA sets safety standards for hot air balloon operators and requires all pilots to be certified.
The different types of balloons
There are many different types of balloons, each with its own unique features. Some are designed for sightseeing, while others are made for racing. No matter what your preference, there is sure to be a hot air balloon ride that fits your needs.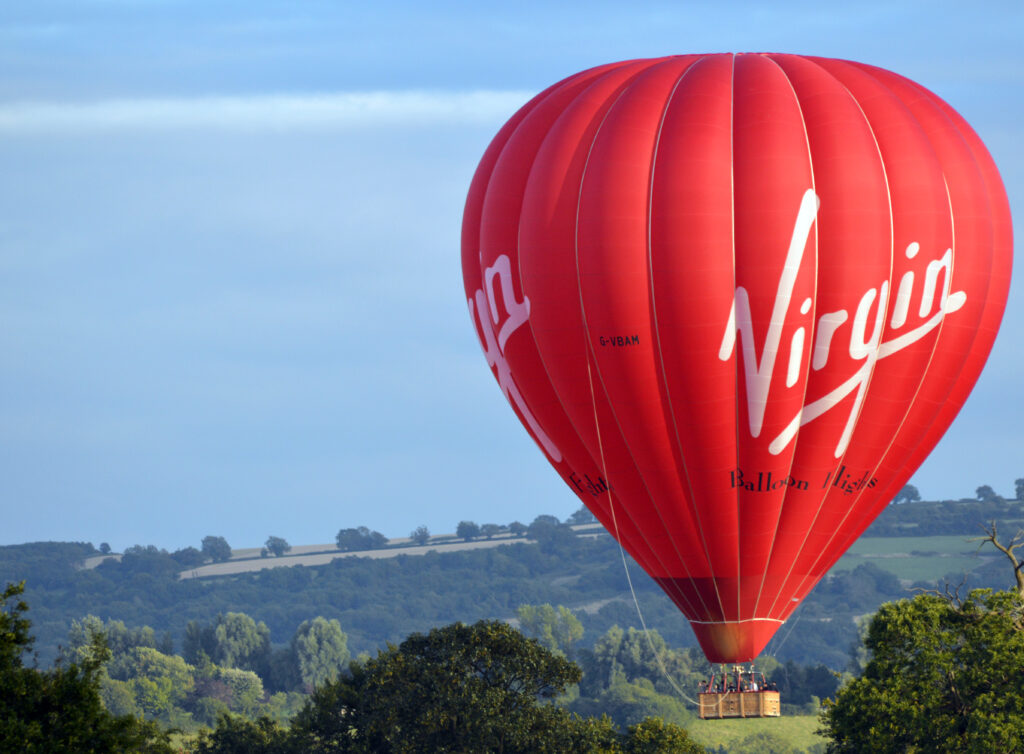 Sightseeing Balloons
Sightseeing balloons are designed for tourists who want to experience the thrill of flying in a hot air balloon over areas that are often out of reach of those on the ground. These balloons are typically larger than other types, and they come equipped with a gondola, or passenger compartment, which can hold up to 12 people.
Sightseeing balloons are made for slow flights over scenic landscapes. They are typically flown at lower altitudes so that passengers can enjoy the view. Some balloon companies offer champagne balloon rides, which obviously allow passengers to drink champagne while enjoying the view, making such a balloon ride the ideal treat for a romantic experience, to celebrate an achievement, or for the sheer pleasure of it.
Whether it's enjoying a champagne toast while flying gently over the wine country of the Napa Valley, marking special occasions, or simply having a great time enjoying the panoramic views over the landscape of your choice, there's are hot air balloon rides available in most countries.
Bristol International Balloon Fiesta
The Bristol International Balloon Fiesta is an annual event that takes place in Bristol, Avon, in south west England. The festival features balloons from all over the world, and it is a popular tourist attraction. It is the largest balloon festival in Europe.
The Bristol Balloon Fiesta began in 1979, and it has been growing in popularity every year. Due to the pandemic in 2020 the Fiesta was replaced with the Fiesta Flypast, the only hot air balloon flight for the Bristol International Balloon Fiesta 2020. They also replaced the traditional nightglow with a Virtual Nightglow. The Fiesta resumed its normal operations and events in 2021.
The Bristol International Balloon Fiesta takes place over two weeks during August. As well as being an amazing spectacle you can also go on balloon rides. Advancing booking is advisable as these sell out fast. Once you've completed your balloon ride you'll probably be presented with a commemorative flight certificate.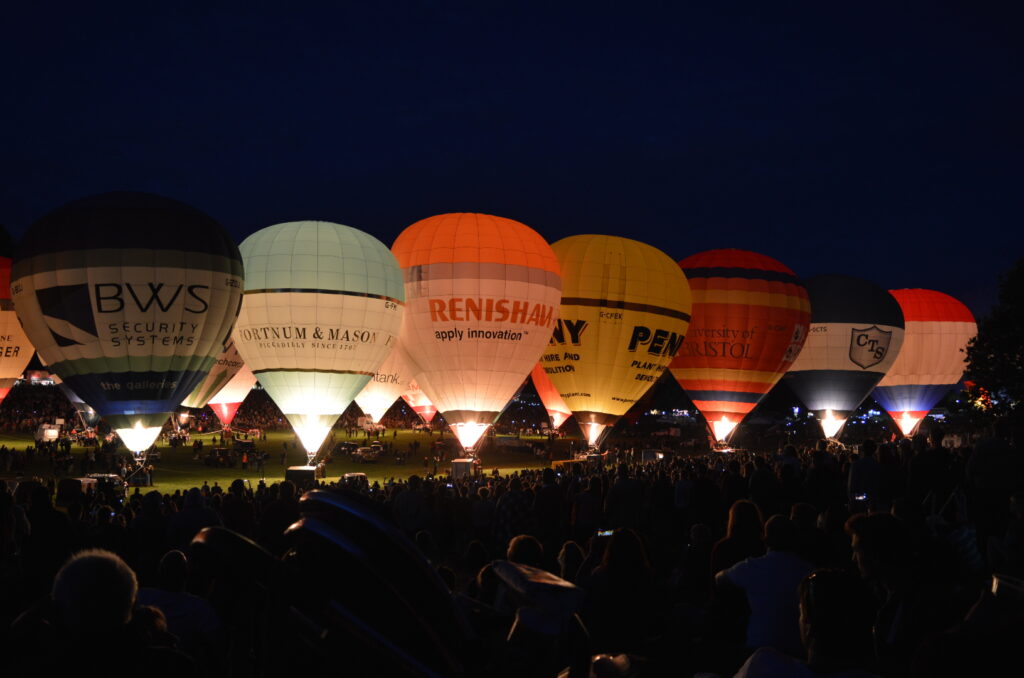 Albuquerque International Balloon Fiesta
The Albuquerque International Balloon Fiesta is an annual event that takes place in Albuquerque, New Mexico over 9 days every October. The festival features about 500 balloons from all over the USA and around the world.
The Albuquerque Balloon Festival began in 1972 with just 13 balloons, and it has been growing in popularity every year. The festival features both competitive and non-competitive flights, and there is something for everyone to enjoy. As well as hundreds of balloons to watch there is a music stage and several other areas where street performers and other entertainers from all over the USA arrive to entertain the crowds.
The beautiful desert landscape provides the perfect backdrop for these amazing flying machines. If you're looking for a fun and exciting event to attend then this is a good place to start your hot air balloon adventure. As with most events of this type you'll be able to book balloon rides for yourself, your friends, and your family.
Hot Air Balloon Expeditions
Hot Air Balloon Expeditions is a company that offers hot air expeditions in Scottsdale and Phoenix, Arizona, and is one of the largest capacity hot air balloon ride operators in the United States. The company was founded in 1991 by Margie and Randy Long and is Currently run by Margie and Randy's daughters, Amanda and Stephanie Long.
Amanda and Stephanie Long are passionate about providing the ultimate balloon flight, and they are dedicated to providing the highest quality experience possible for their customers. They have a team of experienced pilots who are dedicated to providing a safe and enjoyable experience for everyone.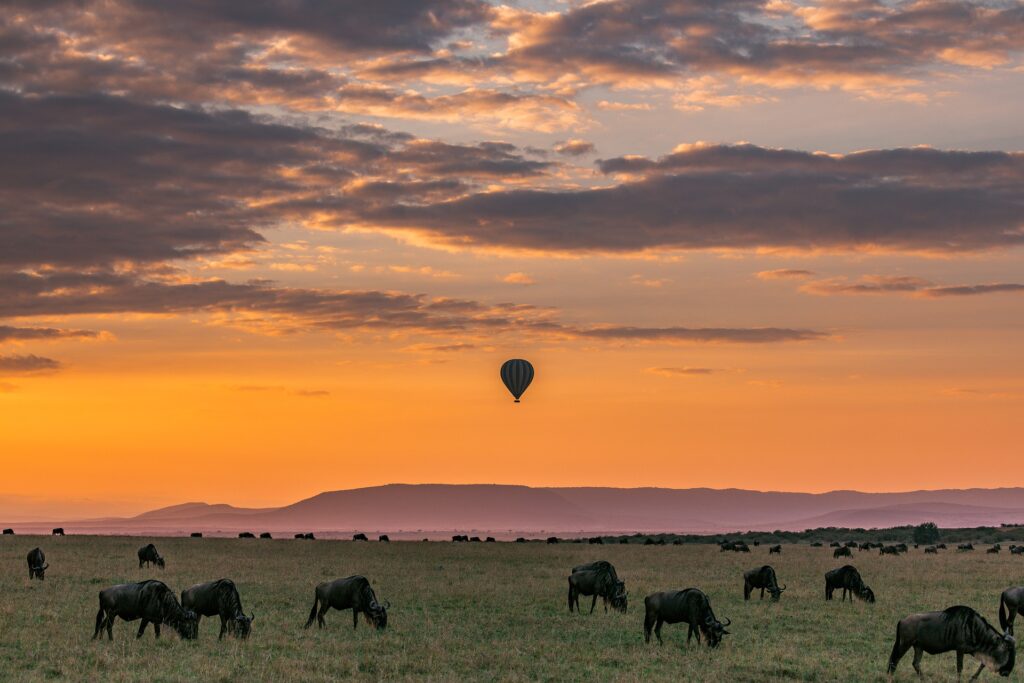 Balloon Safaris in Africa
Africa is a popular destination for balloon safaris. The ballooning industry is growing in Africa, and there are many companies that offer such experiences, either as an addition to a holiday or as a specific holiday package. Check with your local tour operator to see what packages are available in each African country.
Ballooning safaris are the ideal way to see African landscapes. Flying quietly at low altitudes allows you to see the animals below without disturbing them. Many people see lions, elephants, and other game animals from balloons when it might be difficult to see them when travelling by jeep or Land Rover. This type of hot air balloon adventure is one that most enthusiasts add to their bucket list.
Racing Balloons
Racing balloons are designed for competitive pilots who want to race their balloons against others in a competitive environment. These balloons are typically smaller than other types, and they come equipped with a gondola, or passenger compartment, which hold fewer people than sightseeing balloon gondolas.
Racing balloons are designed for fast flights over open terrain. They are typically flown at higher altitudes so that pilots can take advantage of the wind currents.
The Great Reno Balloon Races
The Great Reno Balloon Races are an annual 4-day long event that takes place in Reno, Nevada each September. The races are a popular attraction held at Rancho San Rafael Regional Park.
The GRBR began in 1982 with just 20 balloons and they have been growing in popularity every year. The event includes features such as; Glow Shows, Dawn Patrol, Mass Ascension Launch, Balloon Boulevard, and Tethered Rides.
The GRBR also features the Tissue Paper Balloon Launch during which young students from regional school districts gather to launch hand-made hot air balloons.
How to choose the right company for your hot air balloon ride
When choosing a company that offers hot air balloon rides, it is important to consider the type of balloon ride you want. Flying just about anywhere will be a memorable experience whatever the landscape beneath you but it's worth checking all locations for the best experience (and at perhaps a lower price). You might want to travel a little further to see a particular landmark or view.
The pilots will be certified by the FAA, CAA, or the equivalent authority in the country in which you plan to enjoy your hot air balloon experience. A brief description of the pilots and their experience, along with the safety record of the company, will probably be published somewhere on their website.
Finally, it is important to consider the price of the balloon ride. Make sure the company offers a fair price for the services they provide and check what is and what is not included. Will you have to pay extra insurance? Are photos and videos of the event included in the price?
Ballooning is one of those outdoor activities that are to poor weather. still air or light winds are ideal, so the country and climate determine the chances of a balloon ride on the day you had scheduled. The final decision as to whether or not the flight can go ahead rests with the pilot and you should be prepared for cancellations due to poor weather. All being well though your flight will proceed and you'll soon be enjoying a post-flight champagne toast while the ink dries on your commemorative flight certificate.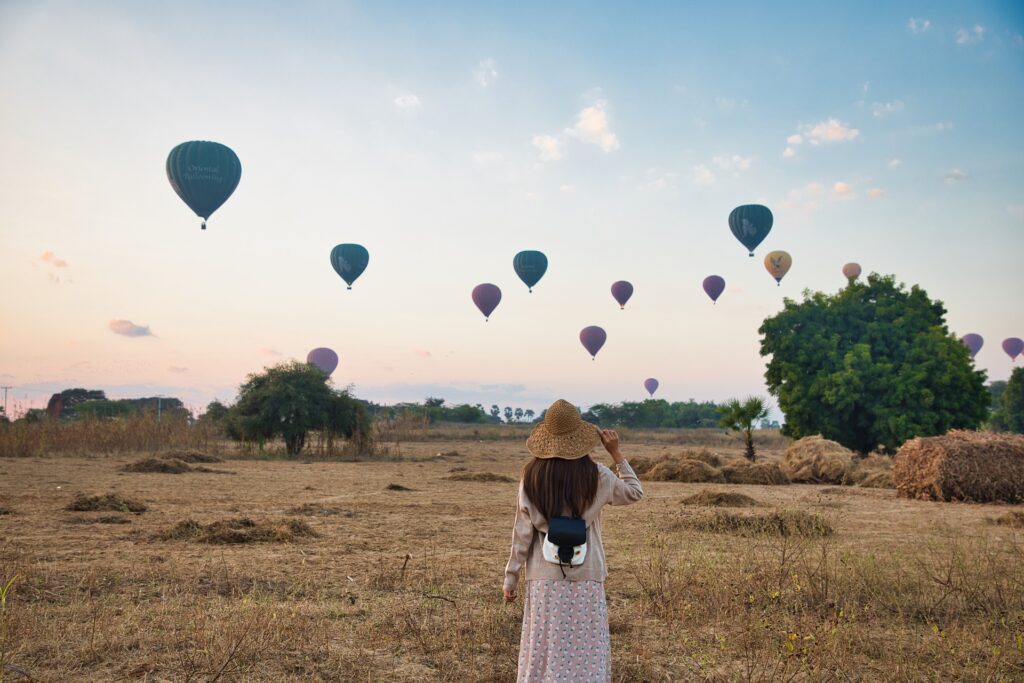 What to wear for a hot air balloon ride
During your flight, it is important to dress comfortably and in layers. For a summer balloon ride, you will want to wear clothes that are light and airy, and which will allow you to move freely.
It is also important to wear comfortable shoes, as you will be walking around the balloon launch area which is most often in a field of grass or stubble. If there has been any light rain then there could be a little mud. If it's been very dry then it could be dusty, so think practical as opposed to stylish.
In the summer, shorts and a T-shirt might be comfortable attire on the ground but the air cools surprisingly rapidly as you ascend. Instead, wear jeans or trousers, and take a jacket. You can always remove a layer but you can't add a layer if it's on the ground!
For a winter balloon ride the change in temperature from the ground to a few thousand feet up is again significant so be sure to dress comfortably. Wear warm shoes or boots for winter flights. The balloon's burner may give you some heat but your feet could still be cold.
Summer or winter, don't forget your sunscreen. You're going to be in the air and exposed, probably for some time, so slap on that cream before your balloon ride.
For modesty, women may prefer to wear jeans, trousers (pants), or a long dress, instead of a skirt. You'll be clambering in and out of a hot air balloon basket.
It would be a big disappointment to be a few thousand feet up on a flight that you've been looking forward to only to wish you were on the ground in some warm clothing.
Taking photos during hot air balloon ride
Flying in a balloon provides a unique perspective that is perfect for aerial photography. Be sure to bring your camera and take photos of the beautiful landscape below. You'll be able to capture the unique beauty of the landscape and the amazing views from high in the sky.
Ballooning pioneers
Ballooning as we know it today would not be possible without the pioneers who developed the sport. These early balloonists were brave and ingenious men who risked their lives to explore the new world of aviation.
The first hot air balloon was built by the French physicist Jacques-Athanase Charles in 1783. However, it was not until the early 1800s that hot air ballooning began to be explored as a potential mode of transportation.
In 1785, a French balloonist Jean-Pierre Blanchard and his American co-pilot John Jeffries set a milestone by making the first complete crossing of the English Channel in a balloon.
In 1987, Richard Branson and adventurer Per Lindstrand made the first successful crossing of the Atlantic ocean in a balloon. The journey took more than three days and was filled with dangerous challenges, but the two men eventually reached their destination. This historic journey put ballooning on the map and proved that it is possible to cross large bodies of water in a balloon.
In the United States, hot air ballooning is a popular tourist attraction. Many companies offer rides in almost every state so you shouldn't have to travel far to find a suitable location.
Ballooning safety
Anyone offering hot air balloon rides has to ensure that their aircraft is piloted by a certified pilot in accordance with the strict safety standards set out by governing bodies like the Federal Aviation Administration (FAA) in the USA or the appropriate civil aviation authority within the country of the flight. Before each hot air balloon flight, pilots should file a flight plan to ensure other aircraft are aware of their location at all times.
Thanks to the safety procedures and the high standards maintained by those involved in this activity accidents are rare. The balloon pilot will provide you with a full briefing before the flight. Make sure you pay attention and listen out for other instructions during the flight itself.
As will all aircraft, the landing is a critical point of the flight so follow the guidance given by your pilot and you'll be safely back on firm ground in no time.
Remember that all flights booked are with the caveat of weather permitting. Be prepared for cancellations due to higher than expected winds or low cloud cover. For such a special occasion you want the conditions to be ideal so sometimes that means putting up with a postponement.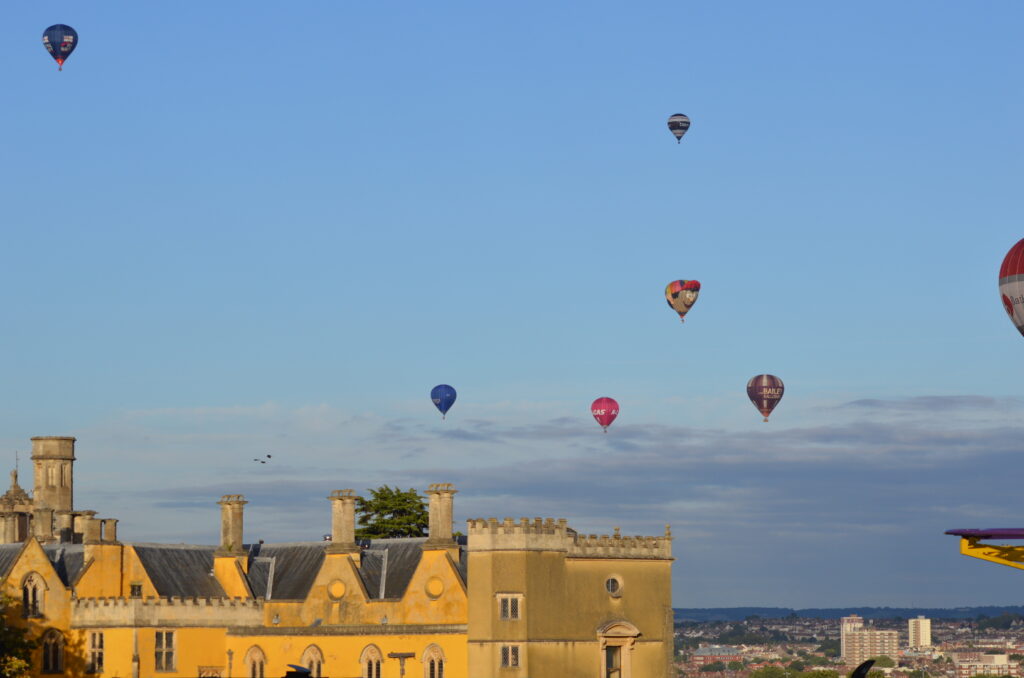 Conclusion
Hot air ballooning is a safe and fun way to see the country from a new perspective and to capture memories that will last a lifetime. It might be in complete contrast to adrenalin thrilled Spitfire flights, for example, but balloon rides are an amazing experience and it that frequently appears on a bucket list and one that is easy to achieve. It's hard to resist the allure of flying quietly and slowly over rolling hills on a beautiful day, taking in those panoramic views. It's the ideal gift for a special occasion, birthday, or just a romantic trip with a difference. It is also a wonderful location for a marriage proposal.
If this has piqued your interest in taking a hot air balloon ride, contact one of the companies listed above for more information about the available packages and how they can help plan a great experience for you or someone special in your life. They will be happy to answer any questions, not just about the flight itself but also nearby transport links and accommodation.
Book a balloon ride and you'll wonder why you left it so long.