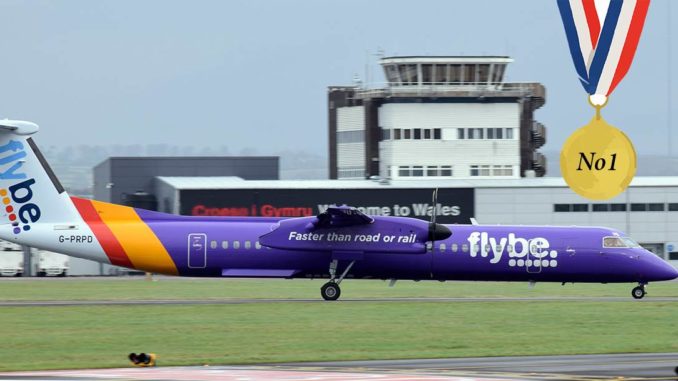 Exeter-based UK Airline Flybe has topped the UK airlines charts, however, no UK airline made it into the Best Airlines 2015 Top 10.
The chart by eDreams analysed results from 90,000 travellers to find the rankings of best airlines with Luxembourg's Luxair coming out on top.
Flybe beat both British Airways and Monarch in the chart which was based on many passenger based factors including how clean and modern the aircraft are, in-flight entertainment and VIP airport lounges. It also reviewed their flight attendant services and online check-in process.
Standing 16th overall, Flybe was also the highest ranked UK airline in the overall chart. British Airways and Monarch ranked 18th and 19th respectively.
Flybe, which has 2 Embraer 195 aircraft based at Cardiff Airport, was also ranked 2nd overall for comfort, coming runner-up to Swiss International.
eDreams said "Throughout 2015, eDreams' travellers have flown to new destinations to discover new places that you'd like to experience and have an unforgettable holiday adventure. Our users have shared their views on the best airlines based on their check-in process, in-flight services and comfort."
Overall Winners:
Luxair
Austrian
Swiss International
Best UK Airline:
Monarch
Most Modern Airline:
Swiss International
Luxair
Aer Lingus
Most Comfortable Airline:
Swiss International
Turkish Airlines
Best In-Flight Service:
Swiss International
Turkish Airlines
Aegean Airlines
Best In-Flight Entertainment:
Turkish Airlines
Delta Airlines
Luxair
Best Check-In Service:
Lufthansa
Scandinavian Airlines
Austrian Airlines
Best Airline VIP Lounges:
Austrian Airlines
Ukraine International
Luxair
Best Value for Money:
Turkish Airlines
Swiss International
Norwegian
All results from eDreams poll.