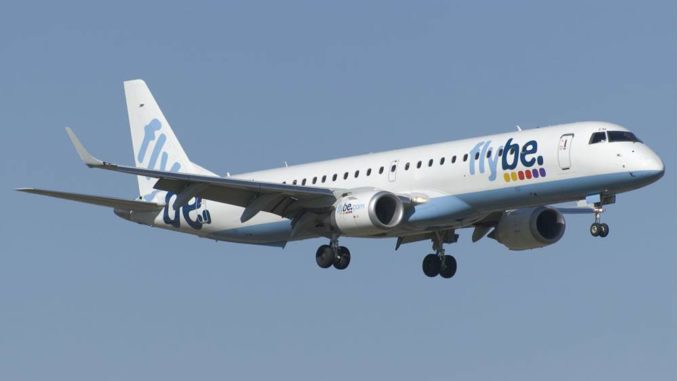 Early March 2015 saw FlyBe announce a major investment in routes from Cardiff Airport (CWL/EGFF) in addition to baseing two Embraer E-Jet aircraft there.
The new routes include Cork, Dublin, Edinburgh, Faro, Glasgow, Milan, Munich & Paris and will add to the existing services to Belfast City and seasonal flights to Jersey, Dusseldorf & Geneva.
The Exeter based airline will operate two Embraer E-195 Aircraft from Cardiff, the first arriving in June, the second in September.
These are in addition to the routes already served from Cardiff by FlyBe.
The Route Details are:
Belfast, Northern Ireland
– Commences Now
– Operates Daily
– Prices from £29.99
Cork, Ireland
– Commences 6th June 2015
– Operates Weekly (peak season Twice-Weekly)
– Prices from £24.99
Dublin, Ireland
– Commences 1st June 2015
– Operates Daily Mon-Sat (peak season 12 times a week)
– Prices from £24.99
Dusseldorf, Germany
– Commences 25th April 2015
– Operates Weekly (peak season 4 times a week)
– Prices from £44.99
Edinburgh, Scotland
– Commences 1st Jun 2015
– Operates Daily Mon-Sat (peak season 13 times a week)
– Prices from £29.99
Faro, Portugal
– Commences 25th April 2015
– Operates 3 times a week
– Prices from £44.99
Geneva, Switzerland
– Commences Now
– Operates Weekly
– Prices from £39.99
Glasgow, Scotland
– Commences 2nd June 2015
– Operates 4 times a week (peak season 5 times a week)
– Prices from £29.99
Jersey, Channel Islands (UK)
– Commences 2nd May 2015
– Operates Weekly (peak season 3 times a week)
– Prices from £34.99
Milan, Italy
– Commences 2nd June 2015
– Operates Weekly (peak season 3 times a week)
– Prices from £44.99
Munich, Germany
– Commences 31st Aug 2015
– Operates 5 times a week
– Prices from £44.99
Paris, France
– Commences 25th April 2015
– Operates Weekly (peak season 4 times a week)
– Prices from £39.99