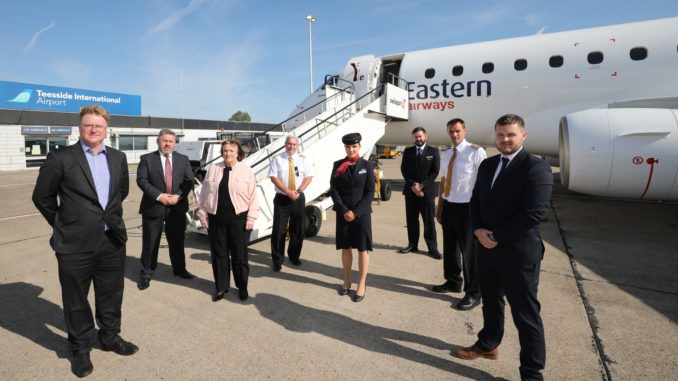 The first flight between Teesside (MME/EGNV) and Heathrow (LHR/EGLL) in more than a decade has taken off today as the new Eastern Airways (T3/EZE) service got underway.
The first flight marks the beginning of a daily service connecting the north-east with the UK's biggest airport providing vital business and leisure connections.
The UK's Aviation Minister Robert Courts said: "Re-establishing the route between Teesside International and Heathrow is not only a positive sign that the aviation sector is getting back up and running despite coronavirus, but also that levelling up the UK is central to Government's plans and is powering ahead.
"I'm delighted to welcome this route, providing more connections for local people, and boosting communities and businesses."
Eastern Airways has invested heavily into its base at the airport and now serves Aberdeen, Belfast City, Cardiff, Heathrow, Newquay and Southampton with regular flights. Dublin is due to resume in February 20211 and it also offers a seasonal service to Jersey.
Roger Hage, General Manager Commercial & Operations for Eastern Airways, said: "As the UK's regional airline, we at Eastern Airways are all about connecting people and places, which by providing a rare new domestic service into London Heathrow adds a worldwide array of onward destinations for business and leisure needs, vital for the economic recovery and prosperity of the Teesside region as a whole. It also makes for a quick and comfortable option for all to reach the capital or Teesside and adds to our growing array of services supporting the region."
The airline is expected to announce more routes in the coming weeks.