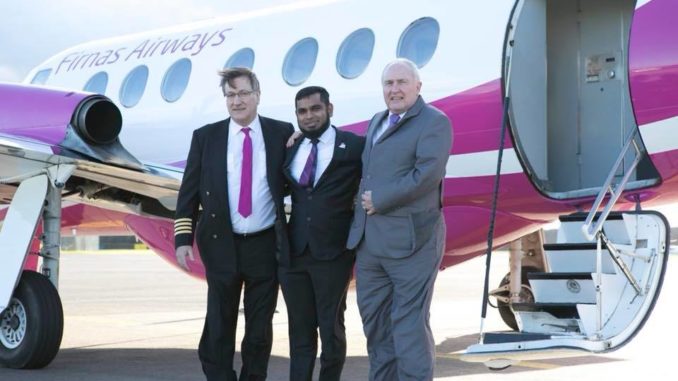 Firnas Airways UK, which according to the original investor case-study is a "shariah compliant" airline attempting to start up in the UK with crowd-funding has found some small backing via the crowdfunding platform Eureeca.com but serious questions have been raised about its true identity and purpose.
The airline features in a new Channel 4 Documentary, How to Start An Airline which is due to air later this year although there is no suggestion Channel 4 has directly invested in the venture.
Firnas Airways is the brainchild of Kazi Shafiqur Rahman a perfume shop owner who has previously worked as airport ground operations staff. But an investigation by Aviation Wales has shown it has some ties to defunct airline Linksair, which was grounded by the Civil Aviation Authority over serious safety concerns.
John Ibbotson, Managing Director of Linksair Ltd (Liquidated) and multiple other failed aviation companies has invested in Firnas Airways and is reportedly the Flight Operations & Training Manager for Firnas Airways. Firnas Airways were asked (by an independent person) if Mr Ibbotson had invested, to which they replied yes.
It is understood Ibbotson has at least 10 failed aviation companies but due to variations of his name being used on the Companies House Register, there may be more. These include Linksair Ltd, Linksair Europe Limited, Linksair Properties Ltd, Linksair RS Ltd, Roissy Aircraft Maintenance Ltd & Aviation Fuel Supply Limited.
Ibbotson oversaw operations at Linksair as well as owning the company and was responsible at the time when the CAA withdrew their Air Operators Certificate (AOC) on safety grounds. A move the CAA said was done to "protect the travelling public".
Firnas Airways has also started parading an aircraft around to investors, a leased BAe Jetstream 31 aircraft registered 2-LCXO, this aircraft provides a further connection to Linksair as its previous registration was G-LNKS, a former Linksair aircraft.
G-LNKS was previously registered to AC Aviation Wales Ltd, a dormant company run by Paul Chapman who's registered offices have recently changed to an address in London. There is no suggestion that Mr Chapman or AC Aviation Wales Ltd is involved with Firnas Airways.
Being registered as on the "2 Register" takes the aircraft away from the gaze of the Civil Aviation Authority by operating with a Guernsey issued AOC, Ibbotson clearly wouldn't want a new operation he is involved with scrutinized by the people who shut him down last time. That set-up, of course, offers less protection for investors and less accountability from Directors. Firnas Airways has confirmed Mr Ibbotson is the Lessor of the aircraft to Firnas Airways through his latest company, Skybird AC Ltd.
Another motivator for operating under the Guernsey register is the crown-dependencies tax-free status.
The similarity of the operation to Linksair is clear, Rahman is aiming to provide a charter service operating for other people, a far cry from the original plans of being the full-service airline that was planned when he pitched the idea to Channel 4 for a documentary.
The media info from channel 4 website regarding How to start an airline tv documentary says "Bangladeshi-British businessman Kazi Shafiqur Rahman loves planes. Whilst working at City Airport, Kazi did every job imaginable, from catering to security to cleaning the plane toilets. And following the creation of a successful fragrance business, Kazi is now in the position to fulfil his ultimate ambition: to launch a brand new airline in the UK.
However the path to the skies is beset with difficulty, we follow the highs and lows of his journey trying to break into one of the most expensive industries in the world. Kazi is also under pressure to fulfil the demands of his faith and insists his new airline is compliant with the teachings of Islam, complete with modest dress for cabin crew and only Halal food to be served on board."
Linksair operated a public service route in Wales and received £1.2m per year in subsidies from the Welsh Government. When it collapsed it left the Welsh taxpayer significantly out of pocket. That contract (currently operated by Eastern Airways) is up for tender shortly.
It is clear from our investigations that Ibbotson is now the man behind the flight operations of Firnas Airways with Rahman being the business face of the concept. Rhaman plans for the airline included running it with Islamic values such as moderate dress for cabin crew, a strict ban on alcohol and only serving halal food. We understand they have since changed their views on this.
A spokesperson for Firnas Airways said "Mr Ibbotson has no 'commercial Interest' in Firnas Airways. He is investing his time, bringing his valuable experience. He is not investing financially.
Given what we are doing at this stage of our development, I think it's opportune to tap into Mr Ibbotson's valued knowledge in the commuter/regional airline market. He knows the Jetstream 31 inside out and has been flying the aircraft for years.
Mr Ibbotson's history has nothing to do with the fate of our company. We have our own destiny and our company is financially backed by myself. We invited him to review and fine tune our business plan because of his immense market knowledge.
Mr Ibbotson is our Aircraft lessor and is committed to make[SIC] Firnas Airways a success, along each of our highly experienced team members – each of whom bring an important dimension. John Brayford is our accountable manager and Managing Director, for example – joining us from running a number of emerging airlines like RAK Airways in the UAE. He was one of the original senior managers when Flybe launched in the early 2000s. Jon Ibbotson can share the obstacles and hurdles he faced and advise us on how to tackle them."
The spokesperson could not confirm in which country their Air Operators Certificate would be from.