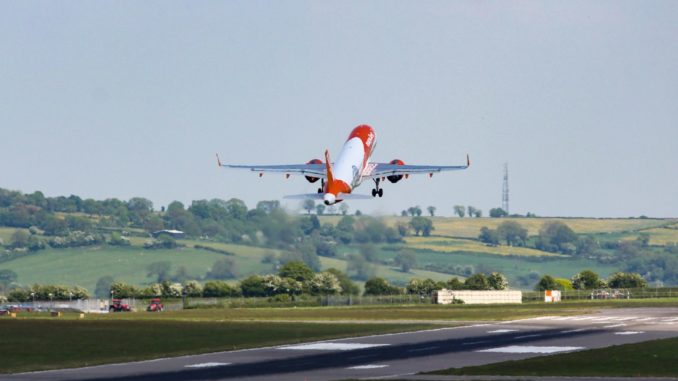 Leading UK low-cost airline easyJet (U2/EZY) is facing an investigation by the Advertising Standards Authority (ASA) over so-called greenwashing adverts shown during COP 26.
Campaign groups Adfree Cities and Badvertising have claimed the airline is misleading the public over its Destination Zero Emissions campaign which the groups claim use "unfounded promises about future aviation technology to sell flights.".
The groups have now made formal complaints to the ASA who will decide whether the complaints have merit.
The easyJet campaign is designed to promote its electric and hydrogen investments which the airline hopes to bring online by 2035 but the campaign groups claim that this would still not be zero-emissions flying therefore the adverts are misleading.
In an immediate response, the groups, which are linked to the professional protest group Extinction Rebellion, also called out easyJets ad agency, VCCP by placing fake adverts over the genuine ones on bus stops.
Robbie Gillett from Adfree Cities said: "The aviation industry doesn't have a credible plan to reduce emissions in the near, medium or long term. Companies like easyJet are capitalising on rising climate concern around the COP26 to push more flights. They offer speculative promises of technological improvements in the next decade to justify increasing emissions today. National government and the advertising regulator must put an end to this deception."
In contrast to the claims, easyJet has recently tested a system together with Bristol Airport (BRS/EGGD) to use electric-powered ground equipment reducing the carbon emissions from the aircraft turnaround by 97%.
The electric ground equipment includes steps, baggage trollies, belt loaders and ground power units to service the aircraft between flights.
Johan Lundgren, CEO, easyJet, said: "At easyJet, we want to play our part to lead the decarbonisation of aviation, so we are delighted to see the results of this successful trial which has create a meaningful reduction in operational emissions by embracing the technology available to us today.
"The learnings from the Bristol trial will help us shape our sustainability strategy for future operational changes – all of which will help enable easyJet's transition towards our goal of net zero emissions by 2050.
"Alongside carbon offsetting and flying efficiently with a young, modern fleet, reducing the impact of our airport operations alongside our airport partners is an important component of our decarbonisation pathway while we are supporting the development of zero-emission aircraft for the future of flying."
Dave Lees, CEO, Bristol Airport added: "This is an outstanding achievement by all partners involved. The trial has reduced aircraft turnaround emissions by 97%*.  This is another demonstration of how working together, including partners and experts in their field, we are able to create a positive reduction in carbon emissions today.
"As an airport we are taking our commitments to address climate change seriously and this trial is only one initiative we are delivering on towards achieving a net zero airport operation by 2030. 
"We will continue to work in partnership with easyJet to enable us to develop joint initiatives and projects to contribute towards decarbonising aviation and the creation of green jobs."