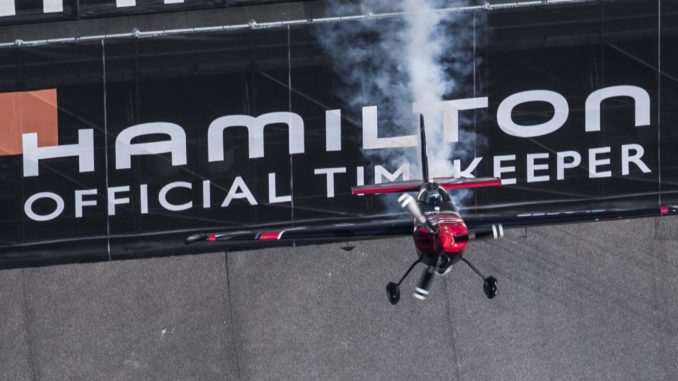 The World Championship Air Race (WCAR) which launches in 2022 has announced the aircraft will operate on a new carbon net-zero aviation fuel.
WCAR has partner with Prometheus Fuels to use its Titan Fuel Forge™ technology to create 'fuel from air'.
It does this by reclaiming atmospheric carbon through a proprietary process that strips carbon dioxide (CO2) molecules from the air which are then energized into hydrocarbons and subsequently made into fuel.
California based Prometheus is due to being selling net-zero fuel for land vehicles later this year and will then add Jet Fuel and AvGas to its net-zero product line.
<div class="videoWrapper">
<iframe width="560" height="315" src="https://www.youtube.com/embed/m7wFCqQDPDc" title="YouTube video player" frameborder="0" allow="accelerometer; autoplay; clipboard-write; encrypted-media; gyroscope; picture-in-picture" allowfullscreen></iframe>
</div>
Speaking about the new partnership, Willie Cruickshank, WCAR Race Series Director, said: "As a signatory of the Sports for Global Climate Action Declaration, adopting, showcasing and promoting the latest developments in green aviation is a core principle of the World Championship Air Race and we are excited about the opportunities Prometheus's zero net carbon AVGAS brings to both air racing as well as the wider global General Aviation community.
"World Championship Air Race is working with a growing network of inspirational technology partners who are pioneering a wide range of sustainable energy and propulsion solutions, ensuring WCAR remains true to its vision to provide the ultimate proving ground for urban air mobility, aviation and clean technology. Our partnership with Prometheus Fuels is the first of many aviation innovations that WCAR will be introducing in the years to come."
Rob McGinnis, Founder and CEO of Prometheus Fuels, added: "We're proud to partner with World Championship Air Race in its mission to make the world's fastest motorsport 100 percent carbon neutral. Our high-performance zero net carbon fuels are a perfect match for air racing's storied spectacle of speed, adrenaline and skill."
WCAR is due to make its season one debut in the first quarter of 2022.