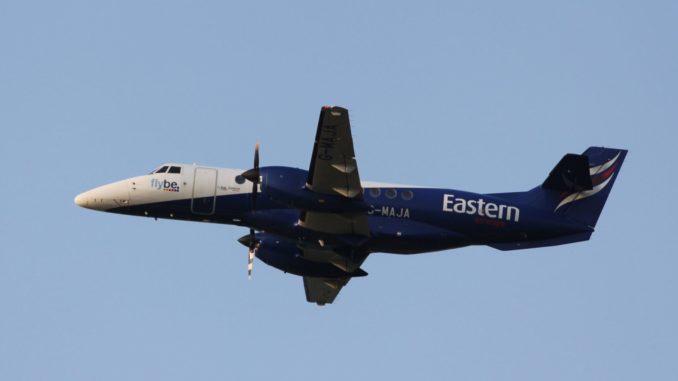 Eastern Airways (T3/EZE) has become the latest airline to suspend flights due to the Coronavirus (COVID-19) outbreak as it cancels all but one flight for at least 24 days.
The airline announced today that is was suspending all its passenger services with the exception of the Aberdeen to Humberside flight which would operate a revised schedule.
The affects some PSO (Public Service Obligation) routes include the air link between Anglesey in North Wales and Cardiff Airport in South Wales.
All Eastern Airways flights are cancelled from:
Aberdeen (ABZ/EGPD) (Except Humberside HUY/EGNJ)
Anglesey (VLY/EGOV)
Belfast City (BHD/EGAC)
Cardiff Airport (CWL.EGFF)
Dublin (DUB/EIDW)
Leeds Bradford (LBA/EGNM)
Manchester (MAN/EGCC)
Newcastle (NCL/EGNT)
Southampton (SOU/EGHI)
Teesside (MME/EGNV)
Wick (WIC/EGPC)
The Humberside service will operate as follows (Monday to Friday Only):
| | | | | |
| --- | --- | --- | --- | --- |
| Flight No. | Depart | Arrives | Dep Time | Arr Time |
| T37642 | Humberside | Aberdeen | 0945 | 1110 |
| T37647 | Aberdeen | Humberside | 1435 | 1600 |
The suspension will be in force between Wednesday 25th March 2020 until at least 17th April 2020.
Eastern Airways says it will offer a rebooking option for anyone with an Eastern Airways booking reference but of course, as the airline is cancelling the flight you are entitled to a cash refund also.
Passengers who had booked via Flybe prior to its collapse should email Eastern with their Flybe reference to obtain a refund.
All enquiries should be made via customersupport@easternairways.com