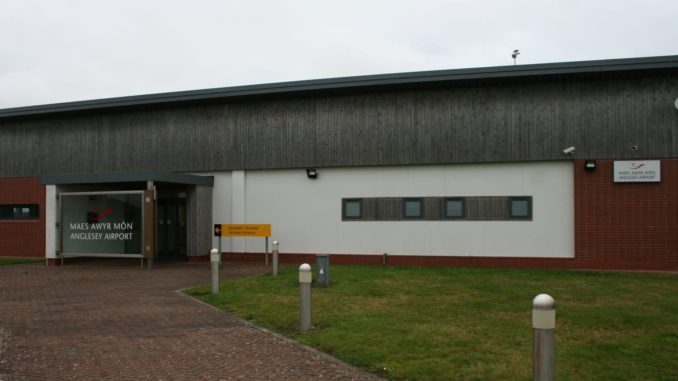 The airport in the Isle of Barra Scotland may be bijou and quirky but the civilian airport at RAF Valley on the Isle of Anglesey is the very model of compact modern efficiency.
Known in Welsh as Maes Awyr Môn, Anglesey Airport (VLY/EGOV) only handles two flights a day, both from Cardiff Airport in South Wales. It is airport owned by the Isle of Anglesey County Council and managed by Bilfinger Europa on a recently extended contract and its five staff work two three hour shifts to handle the day's operations.
The building itself comprises a well-maintained security suite, arrival and departure lounges, washrooms and a free drinks area along with computer access in the departure lounge
Eastern Airways took over the contract when the previous incumbent, Citywing, went into liquidation although this is due for renegotiation to a longer term by March 2018.
One of the advantages with Eastern Airways is its tie up with Flybe and it is understood that a Flybe booking system will be installed at Anglesey Airport making it possible to book through to long haul destinations taking advantage of Flybe's codeshare arrangements.
Direction
Dep Time
Arr Time
CWL – VLY
07:35
08:25
Mon-Thu
CWL-VLY
16:10
17:00
Fri
CWL-VLY
15:25
16:15
Mon-Fri
VLY-CWL
08:55
10:00
VLY-CWL
17:35
18:35
The aircraft currently in use is a Jetstream 41 propellor aircraft seating 29 passengers although numbers are currently limited to 19. The utilisation of the aircraft is under discussion by the Welsh Government since it stays on the ground at Cardiff between its morning and evening flights to Anglesey. Will there be a third daily flight from Cardiff and possibly an Anglesey to London Stansted alternate day connection? Much depends on passenger numbers and the level of subsidy that the Government is willing to offer but there is no doubt that the capital investment at Anglesey and a ready and effective staff are available to develop the airport to its full potential.
[espro-slider id=3404]
Our thanks to Donna Williams, Airport Manager Anglesey for Bilfinger Europa, for assistance in this feature.