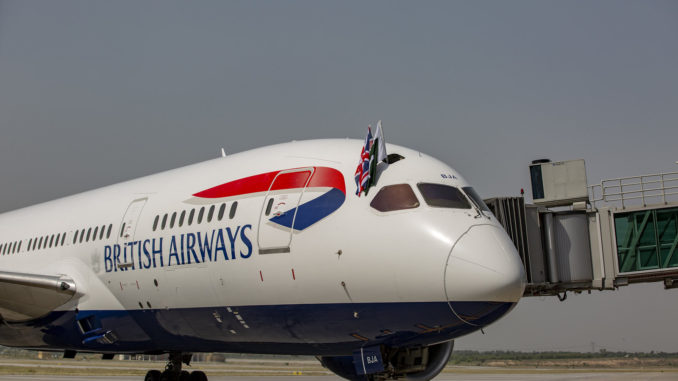 British Airways (BA/BAW) has operated a flight from London Heathrow (LHR/EGLL) to Islamabad (ISB/OPIS) in Pakistan for the first time since stopping flights to the country 10 years ago.
The flight marks the recommencement of a three times per week service connecting the two capitals and bolstering key trade links between the UK and Pakistan.
Dr Liam Fox MP, The International Trade Secretary, said: "The relaunch of British Airways flights between the UK and Pakistan after more than ten years will be a major boost for trade between our two countries. It is no surprise that it is an iconic British airline that is the first western airline to fly return to Pakistan, a symbol of the strong and growing relationship between our two countries.
British Airways will be operating the service using one of its newest aircraft, a Boeing 787 Dreamliner, which is configured in a three-class set up with World Traveller, World Traveller Plus and Club World cabins.
Being sensitive to the Islamic destination, British Airways will be offering bespoke services such as a halal meal option in every cabin and ensuring sauces in every meal do not include alcohol or pork.
The airline also says it has had significant interest from its crews who speak Urdu to operate the flight.
Andrew Brem, Chief Commercial Officer at British Airways, who was on board the first flight from London said: "Today is a great occasion for British Airways as we resume flights to Islamabad after a decade.  The atmosphere on board our state-of-the-art 787 aircraft was spectacular, as was the warm welcome on the ground. British Airways has a proud history of flying to Pakistan – we first operated flights to Islamabad in 1976 – and we couldn't be more excited to be back."
Flights to Islamabad operate on Sundays, Tuesdays and Thursdays with return fares starting from £448.