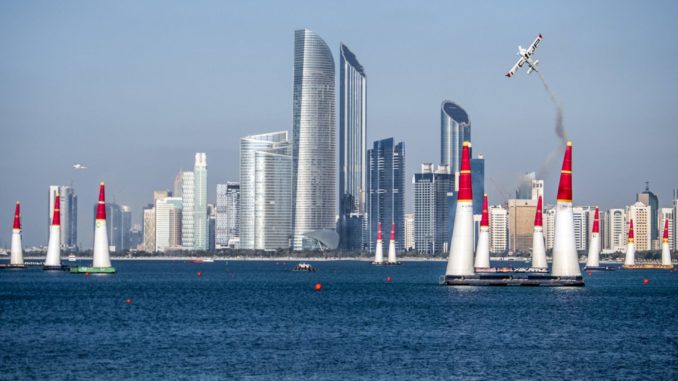 The first weekend of the Red Bull 2018 Air Race season has got underway with 2016 Champion Matthias Dolderer topping the table.
The German set the pace with a time of 52.795s with just one run after having a DNF due to him breaking the 12G limit on his second.
American Michael Goulian posted a time of 53.392s, which, whilst over half a second slower than Dolderer, was enough to secure second place in Qualifying.
Third place went to world champion Yoshihide Muroya who set a time of 53.404s.
Britains Ben Murphy of the Blades Racing time ended up 9th in qualifying with a time of 54.351s.
This means that Ben will be up against 6th place qualifier Juan Velarde in the round of 14 race.
Qualifying Results
| | | | | |
| --- | --- | --- | --- | --- |
| Place | Name | Nationality | Time | Penalties |
| 1 | Matthias Dolderer | GER | 0:52.795 | 0:00.000 |
| 2 | Michael Goulian | USA | 0:53.392 | 0:00.000 |
| 3 | Yoshihide Muroya | JPN | 0:53.404 | 0:00.000 |
| 4 | Mikael Brageot | FRA | 0:53.416 | 0:00.000 |
| 5 | Kirby Chambliss | USA | 0:54.032 | 0:00.000 |
| 6 | Juan Velarde | ESP | 0:54.045 | 0:00.000 |
| 7 | Martin Sonka | CZE | 0:54.323 | 0:00.000 |
| 8 | Petr Kopfstein | CZE | 0:54.336 | 0:00.000 |
| 9 | Ben Murphy | GBR | 0:54.351 | 0:00.000 |
| 10 | Francois Le Vot | FRA | 0:54.702 | 0:00.000 |
| 11 | Cristian Bolton | CHI | 0:55.011 | 0:00.000 |
| 12 | Pete McLeod | CAN | 0:55.176 | 0:02.000 More Info |
| 13 | Nicolas Ivanoff | FRA | 0:56.444 | 0:00.000 |
| 14 | Matt Hall | AUS | DNF | 0 |
Watch live here http://live.redbullairrace.com/Event/Red_Bull_Air_Race_2018_-_Abu_Dhabi