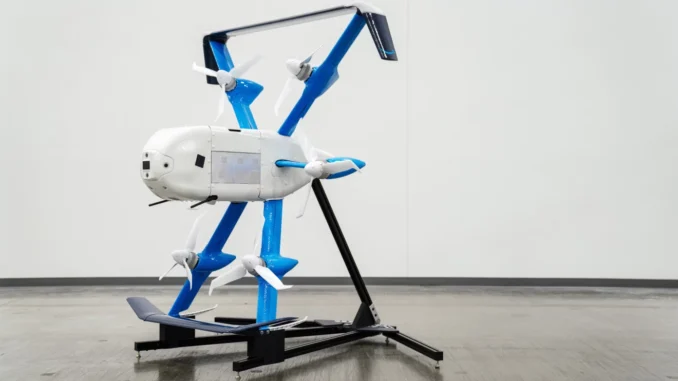 Amazon has announced that it will launch drone deliveries in the UK at the end of 2024 subject to approval from the UK's airspace regulator, the Civil Aviation Authority (CAA).
The announcement came as Amazon Air unveiled its new drone, the MK30, which is a hybrid quad-rotor aircraft that will operate under Beyond Visual Line of Sight (BVLOS) regulations if approved by the CAA.
Amazon says that the new MK30 drone has a range of features that will enable it to operate safely in the UK such as advanced obstacle avoidance which uses real-time technology to detect objects in the path of the aircraft.
The drone will be able to carry a box about the size of a shoe box weighing up to 5lbs and will be used for things like household essential items like batteries as well as other small items such as beauty products and make-up.
Weather is also less of an issue with the new drone as it will be able to fly in light rain, the current Amazon drone can only operate in clear, dry weather. Noise is also improved with the MK30 with it being around 50% quieter than current drones.
Being a hybrid aircraft, the MK30 takes off vertically like a conventional drone but then transitions to wing-born flight enabling it to fly much farther than a non-hybrid drone.
David Carbon, vice president of Amazon Prime Air, said he believed the technology was "absolutely safe" and that Amazon Air was working closely with the CAA to develop the technology in the safest way.
The first location for UK use has not been announced however launches will be in smaller suburban areas rather than somewhere like London which has congested airspace and dense populations. The initial locations should be announced in the next few months.