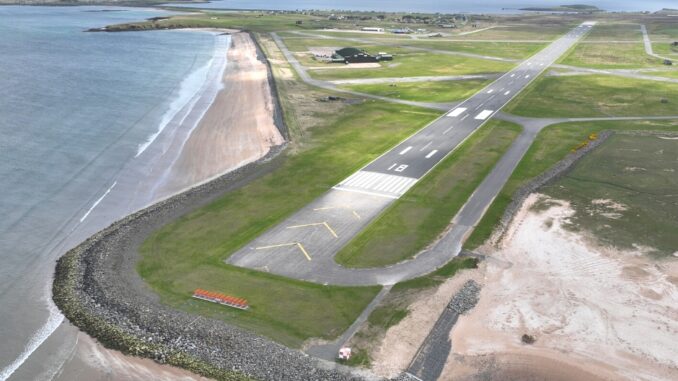 Highlands and Islands Airports Limited (HIAL) has completed a multi-million-pound project to protect Stornoway Airport on the Isle of Lewis from coastal erosion that threatened to cause a flood risk at the airport.
HIAL identified the need for work to be done the prevent the loss of the sand dunes which shield the airport, particularly during severe weather and storms in 2021 and following a public consultation began to carry out the urgent restoration.
Working with engineers it was decided that placing additional rock armour and protecting the seaward face of the dunes by constructing reno mattresses (a type of steel, wire-mesh basket) was the best solution.
Duncan C M Smith, HIAL General Manager West working at Stornoway airport, said: "We are extremely pleased that these works have been completed and which will be of massive benefit to the long-term future of Stornoway Airport and to the coastal defences of the Western Isles.
"When we noticed that coastal erosion was becoming a significant issue on the north-east quartile of the beach next to the airport, plans were swiftly put in place to restore the coastal defences and maintain airport infrastructure which would all have been at risk if the work had not been carried out."
Duncan added: "The completion of the 16-month project has provided the solution needed to protect our airport infrastructure and surrounding area from erosion for decades to come."
Kevin O'Leary, HIAL Chief Operating Officer, said: "This project was an extremely important one as part of our ongoing commitment to support essential connectivity for our island communities. The significant investment made will protect the long-term future of the airport and vital air connections for the communities of the Western Isles."
HIAL says that the completed £5.3 million project consists of a 'mattress' of almost 22,000 tonnes of stone being created beneath the beach, with 2,081 baskets filled with stone built on top to reinforce the beach and stop the sea from eroding the land. In addition to this, a further 14,058 tonnes of rock armour stone was positioned on the headland at the end of the runway.