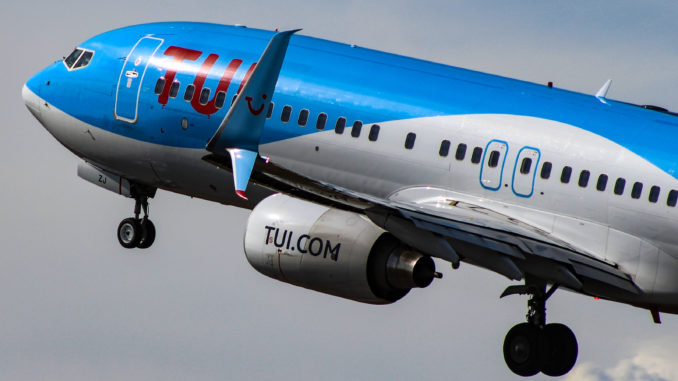 Leeds Bradford Airport (LBA/EGNM) remains closed this evening after the earlier runway excursion by a Boeing 737-800 landing in wet and stormy conditions.
The Tui airliner was operating a flight from Corfu (TOM3551) when it skidded off the runway coming to rest on the grass.
Airport Fire and Rescue vehicles responded to the incident which happened at 13:53 local time along with West Yorkshire Fire Service.
A spokesperson for Leeds Bradford Airport said: "We can confirm there are no reported injuries from this incident and that all passengers have now safely disembarked the aircraft. The airport is now closed.
"We are working with the airline, relevant operations teams and emergency authorities to resolve this situation and return services safely as quickly as possible.
"We ask passengers to contact their airline to check the status of their flight before travelling to the airport."
The UK is currently experiencing Storm Babet which has brought heavy reading and flooding across the country.
A spokesperson for Tui UK said: "We are aware of an incident at Leeds Bradford Airport this afternoon during the landing of flight TOM3551.
"There are no reported injuries, and our ground team are on hand to support passengers as they disembark."
One X user posted an image from inside the plane showing the aftermath of the incident.
Pay extra for TUI and end up in Leeds Bradford covered in mud.

Shouldda' flown Ryanair. pic.twitter.com/iafSc6Aem5

— Rob Boyd, Esq (@AvonandsomerRob) October 20, 2023
Update
The airport reopened this morning after crews worked through the night to remove the aircraft from its final position.
In a statement, a spokesperson for Leeds Bradford Airport said: "The LBA team and partners have worked tirelessly throughout the night in torrential conditions to recover the aircraft in order to safely reopen the runway and airport,"
"It has been a huge team effort from all corners of the airport and our partners.
"We want to express our sincere gratitude to everyone involved in supporting the effort dealing with the incident, disruption and recovery of the aircraft in exceptionally difficult conditions."
An investigation will now be carried out to find out why the aircraft skidded off the runway.